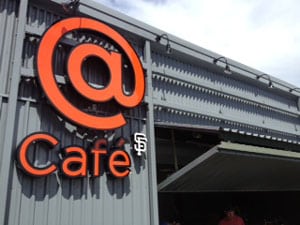 The San Francisco Giants have hit it out of the ballpark. And the team isn't doing too shabby on the baseball field, either.
We're referring, of course, to the Giants rolling out a new social media café at AT&T Park. The @Cafe, located behind the centerfield bleachers at AT&T Park in San Francisco, opened last night as the Giants took on the San Diego Padres. It's the first social media headquarters located in a ballpark, according to the San Jose Mercury News.
The café features 12-foot-by-4 foot video wall showing social feeds in real time from throughout the world, including trending tweets, popular Instagram photos, results from Facebook polls and check-ins.
Fans will also be able to view the Giants' social media team at work as they monitor and post content to the media wall from the Giants Social Media Command Center.
This was probably inevitable, what with the Bay Area being home to the holy triumvirate of social media companies: Facebook, Google and Twitter.
In keeping with its digital neighbors, the Giants lead Major League Baseball in total number of Instagram followers and are fourth on Twitter and Facebook, the San Jose Mercury News said. Giant president-CEO Larry Baer told the newspaper that AT&T Park has the third-most Facebook "check-ins" in the world, behind Times Square and Disneyland.
The Giants' move may inspire other entertainment brands to use brick and mortar to help boost their social-media presence and provide their audiences with a specific area designed for the socially engaged.
Talk about a terrific pitch for PR managers and directors eager to enhance the value of corporate communications. (Sorry.)
Follow Matthew Schwartz: @mpsjourno1