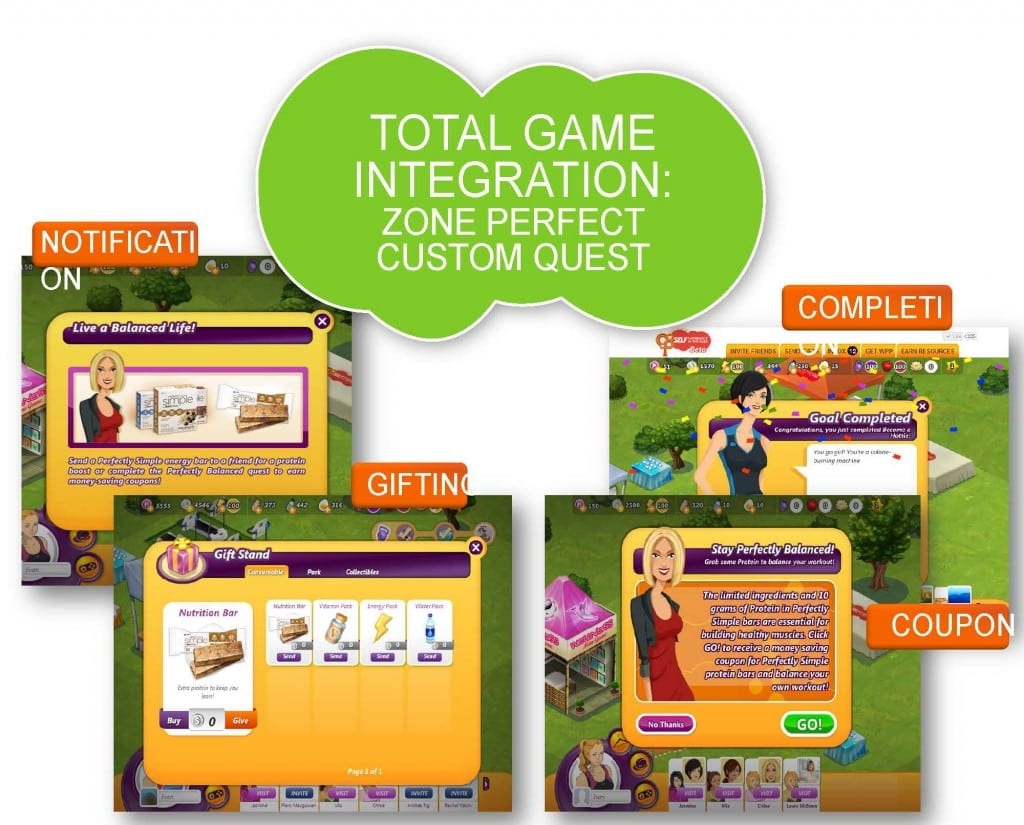 The rapidly changing publishing industry landscape has led many magazines into the social media space. Their future depends on it. Ongoing and dramatic changes in consumer behavior have motivated consumer magazines like SELF to find fresh ways to engage their audiences while maintaining brand appeal.
SELF's VP and Publisher Laura McEwen recognized not only the changes within the industry, but also the emerging popularity of social media gaming. That inspired her and her team to conceptualize, develop and launch a branded social game, Workout in the Park.
"I was a huge student of games like Farmville and some of the other games women were gravitating towards online," McEwen says. "So I thought it would be great to take our Workout in the Park events and use it as a model to build a game based on a real woman's behavior."
BEING FIRST ISN'T EASY
Despite being a subsidiary of Condé Nast, one of the largest magazine publishers in the world, being the first magazine to market with a social game was a daunting task, requiring plenty of capital, creativity and labor.
Nevertheless, McEwen and her team were exited about the prospect. "People were looking at digital, tablets and other mobile devices, but we did our homework and were eager to be first, and it's paid dividends," she says.
While being first is nice, that was not SELF's primary goal. Instead, the company laid out the following fundamental objectives:
• Increase brand awareness and expand that awareness outside the publication's core demographic. This is becoming an increasingly important objective for magazine publishers who are starting to discover that building a strong brand is more important than ever.
• Expand SELF's database. Data is one of the most valuable assets for a publisher these days, and a game-user registration is a great way to collect data.
• Increase revenue through consumers and advertisers.
Social and app based games offer multiple streams of revenue, including in app purchases, banners and sponsored products.
There was also a fourth goal—fun. "Our number one priority was to do a great game that tapped into a woman's emotion and her lifestyle.
A lot of women are working hard at becoming their best self and that plays into our brand mission," McEwen says. "And I wanted it to incorporate that, so I was really focused on the game, its uniqueness and it really being best in class."
WORK IT OUT
Working to develop an idea and establish goals can be challenging, but the execution is the most crucial. Executing a campaign can be difficult when you are working within your comfort zone, but SELF was venturing into unchartered waters with its gaming program.
Many technological decisions were ironed out during both development and post-launch stages.
For example, the decision to host the game on a cloud platform wasn't in the initial plan, but it proved to be the best environment for the game.
Still, as McEwen retells the experience, it's clear that decisions like that and several more were the norm.
"It was all a lot more than we anticipated," she says. In six months SELF developed a business plan, the design architecture and the rollout plan.
The company didn't have anyone with a gaming experience, so the team recruited external advisors to educate them; SELF employees also attended gaming conferences and met with people in the gaming industry.
SELF called on companies like Live Gamer and others that understand monetization and the back-end of games.
"We were working 14-16 hour days, putting in a lot of overtime to really work it out," McEwen says.
The final product provides users with the ability to create and customize avatars and individual fitness parks. The game also features fitness challenges, workout gear and other virtual goods the user can earn or purchase in the game. It can be tied to a user's real-life events, as well.
EXCEED EXPECTATIONS
SELF set aggressive goals that, in some cases, the publication was able to go above and beyond.
In just two months, more than 250,000 users downloaded the game, while the initial average time spent in-game was roughly 14 minutes. What is more, the PR effort garnered more than 200 million media impressions.
Indeed, months of planning and testing seem to have paid off for SELF.
By focusing on the female demo of the 98 million social gamers who are women (55%), the magazine was able to design a game that strengthened the brand while offering a fun and engaging experience.
Since the launch SELF has celebrated the following benchmarks:
• An average of 150,000 monthly users login regularly to play; that exceeds McEwen's initial goal of 100,000 each month.
• More than 1 million users have downloaded the game.
• Active users typically engage with the game for 16 minutes per session, which is in keeping with McEwen's goal. "16 minutes makes a strong case for the strength of the game play," she says.
• The game penetrated a new demographic of women in their 20s, whereas the typical SELF reader is identified as a woman in her 30s.
• Expanded the company's database, which, as McEwen says, "gives us something to show companies when we try to do business."
LESSONS LEARNED
When the First Lady of the United States applauds your idea, you know you've done something incredible.
Michelle Obama recognized the significance of SELF's Workout on the Park Social Game Challenge in a personal letter, stating: "By promoting physical fitness through an interactive experience, SELF is changing the way its readers approach what it means to lead a healthy lifestyle, and for that I am incredibly grateful."
Not small stuff.
The learning curve on this project was substantial and intense, but SELF would do it all over again. Creating a social game from scratch is a major lift, with lots of detailed, nuanced moving parts.
But if you have a strong idea and concept, you just need to think big, be creative and let it rip.
Among the takeaways about entering the gaming space, which happens to be applicable to any company launching a major initiative:
• Passion for your brand and your ideas is what drives the biggest successes. If you believe your program can be best in class, find the resources to make it happen. And, of course, don't be afraid to take some risks.
• Budget more than what you expect. Game development is an involved process, and doing it right can be costly.
• Tap into your audience's emotions and lifestyle habits. Give people something fun to share with friends and they will reward you with their time.
• Be first. Then iterate to improve. Your great idea gets even better when you evolve it to stay fresh and engaging—and stay ahead of any competitors.
SELF's game launch proves that a brand can expand its offerings effectively, as long as it computes with its identity and overall mission.
The success of its launch illustrates that it is essential to keep your eyes open to look for new opportunities and apertures in your market. Debuting a product that offers multiple streams of revenue is well and good, but attracting a new audience is just as beneficial in the long run.
SELF created a college competition with more than 200 colleges and universities invited to play. The grand prize provided the winning college with a SELF-sponsored workout event.
CONTACT:
Lauren Theodore, lauren_theodore@condenast.com; Laura McEwen, laura_mcewen@condenast.com.
6 Tips for Rolling Out a New Product or Service
Launching a product or service that is a departure from "business as usual" can introduce a host of unexpected challenges. One of the last things you want to do is create something that disenfranchises your existing stakeholders or introduce a product or service that is not ready, which then generates negative publicity. So here are six tips on how to carefully plan and debut a new product:
1. Have an end-user in mind: It seems blatantly obvious, but if your product is not designed for a specific user then it will be difficult to test and market.
2. Don't skimp: If you are cutting corners to make a new product work then you may have a flawed strategy. If you find yourself falling short of capital don't be afraid to look for investors.
3. Seek help: If you are penetrating a new market you may be in over your head, so don't be afraid to reach out to experts who know the market.
4. Test and retest: Before your product is released to the public you should be sure all the loose ends are tied and all the kinks are worked out. This process should be done internally and externally, so that may involve contracted product testers and focus groups.
5. Create buzz: Before your product is launched you should make people aware of it. Social media is proving to be an effective platform for creating preliminary buzz.
6. Evolve: Once the product is launched, don't be afraid to augment it if you need to and if you can. Listen to feedback and look for ways to continuously make your product better.
This article appeared in the June 10 issue of PR News. Subscribe to PR News today to receive weekly comprehensive coverage of the most fundamental PR topics from visual storytelling to crisis management to media training.