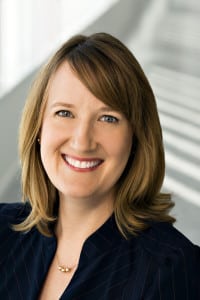 You run communications for five networks: Investigation Discovery, American Heroes Channel, Destination America, Discovery Family Channel and Discovery Life Channel. What have you learned? My lessons, so far, at least, are work hard and take any opportunity to learn something new. Listen. Invest in people. Be an incredible colleague. Confidence counts. Solve problems, don't create them. Have fun. No, really, have fun.
Talk about a risk you took and what you learned from it. My first steps in PR were risky. Just days after graduating with a degree in communications and a stunning lack of marketable skills, I packed my worldly possessions and moved to Washington, D.C., for an unpaid internship at a PR firm. Agency life was like communications boot camp. It allowed me to test different industries. I learned how to prioritize while making it look like everything is top priority. I discovered that being willing to work hard and take on any opportunity were huge assets. I also realized that sometimes you learn the most from difficult bosses and hard-to-please clients. Tyrants are secretly teaching you everything you need to know about how to treat people later in your career.
Your mentors? When I started at Discovery, Jim Boyle and Lynn McReynolds demonstrated that humor gets you through almost anything. Annie Howell taught me everything I know about leading a team and nurturing people. David Leavy gave me a master course in managing up. My current boss, Henry Schleiff, is a hilarious showman who has shown me that audacity and outrageousness can go a long way in PR.
What do you look for when hiring? I look for confident collaborators. I see communications as a team sport, with people working together on big projects across the organization. I seek candidates who are leaders but won't need all the credit and those who create opportunities to help junior staff grow. I also want people who can build terrific relationships with colleagues and reporters. Above all else, I screen for a sense of humor. We all spend a lot of time at work. I want to surround myself with people who can laugh at the absurdity that often comes with PR.
CONTACT: Kristin Brown is SVP at Discovery Communications. She can be reached at: kristin_brown@discovery.com
This article originally appeared in the August 3, 2015 issue of PR News. Read more subscriber-only content by becoming a PR News subscriber today.