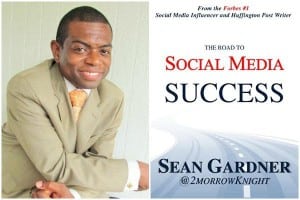 We've all heard the quality-over-quantity mantra about social media networks of followers, but how many brands and professional communicators wish they had fewer followers (reputation crises aside)? Few—or none.
In his new book "The Road to Social Media Success," Sean Gardner, who ranks #1 on Forbes' list of the Top 50 Social Media Power Influencers and has worked with corporations like Microsoft and Silicon Valley Bank, and nonprofits like World Vision, Charity: Water, Save the Children, Project Medishare and #GivingTuesday, opens up about the strategy he has used to build his immense social media presence and influence. As keynote speaker at PR News' Feb. 11 Google Conference in San Francisco, Gardner will share practical tips on how he builds his social presence—including his belief that sometimes you must ignore so-called best practices—and discuss why focusing on yourself and your own message can be self-defeating. He offers a preview of his keynote presentation here.
PR News: What's the secret to getting three-quarters of a million social media followers?
Sean Gardner: Content is important—extremely. I tested and tested until I came up with my "inspiration, information and aspiration" mix. But there is more to it. It also calls for identifying an account, or accounts, that's growing and getting great engagement. You can then follow the people who retweet them, and you can even follow their followers. This strategy makes sense for two reasons: one, you get a chance to connect with lots of people outside of your industry, and two, because Twitter is now pay for play like Facebook and Pinterest, you get a chance to have hundreds of new eyes on your page and clicking on your links, whether they follow you or not.
PR News: What is one favorite way you've used Google's tools and technology to expand the reach of your social media community?
Gardner: I love Google+. I don't use it because of the number of people that are on it—I use it because I find it to be quite educational. I have learned a great deal from the site, and connected with some extraordinary people across the globe. I often use Google+ as the center of my social media cross-posting strategy, as I put Google+ links on Twitter and Facebook to increase engagement and page views. This has worked extremely well for a number of years.
PR News: In your book "The Road to Social Media Success," you talk about making a positive impact as an influencer—going beyond the self and the self-promotional. What recommendations can you make to communicators who seek to follow the same path?
Gardner: It is easy to just promote your own projects and ideas, or those of people in your networking group or retweet team. That is easy. But as former Virgin executive Porter Gale says, if you want to grow and thrive in social—and in life—your idea of success must include helping people. "I and me" is fine when you want to let the world know who you are. But when you comprehensively incorporate a "we and us" approach, you take your brand into the stratosphere. This is also one of the lessons of #GivingTuesday.
PR News: What's the most important lesson you want to share with Google Conference attendees about expanding one's presence online?
Gardner: To not be afraid to try some things that may not be considered best practices. For example, it has been said that one's LinkedIn summary should only be written in the first person. Well, I tried that for three years, with minimal results. So I rewrote my summary in late 2013 in the third person. Almost immediately, inquiries about my services increased, and I started getting invites to conferences to speak. Changing the summary gave me the results I had always wanted from LinkedIn. So people should not be afraid to shake things up in social media, especially when trying to build and expand their presence.
Register to attend PR News' Feb. 11 Google Conference in San Francisco and hear Sean Gardner's keynote presentation.
Follow Sean Gardner: @2morrowknight
Follow Steve Goldstein: @SGoldsteinAI