Subscribe Today & SAVE $200 Plus an I Love PR T-Shirt!
48 Issues + 5 Annual Special Reports | $1049 $849 for 1 Year
Use Your Special Discount Code to Receive this Special Offer
Each week, PR News focuses on honing and growing PR practitioners' skills in social media, storytelling, crisis management, digital PR, measurement, employee relations, media training, CSR and writing. This flagship newsletter has remained dedicated to supporting the professional growth of communicators all while keeping them abreast of the latest news affecting the industry. View Sample Issue
Each week in PR News you'll find case studies and articles on: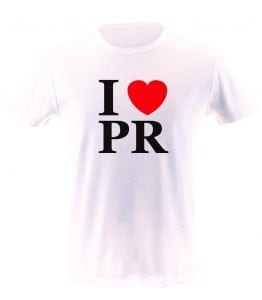 Social Media
Visual Storytelling
Measurement
Employee Communications
Digital PR
Crisis Management
CSR
PR Leadership
Media Relations
And More

Subscriber-Only Annual Reports Include:
PR's Guide to SEO
Salary Survey and Compensation Report
Measurement Guide to Dashboards and Essential Principles
Step by Step PR Guide to Handling a Crisis
Who's Won What: Guide to PR News Award Winners by Category
Subscribers also receive access to the subscriber-only section of PR News Online. The archive section allows you to search current and past issues of PR News, including case studies, media hot sheets, news briefs and articles. All the information you need from 1996 to today is right at your fingertips. Sign up for a free trial to PR News. Check out the PR News Subscriber Resource Center and see what you are missing by not subscribing to PR News.
What our readers are saying:
"Not only do I devour the issue when it arrives, I keep copies as reference materials. Each issue is full of great best practices ideas, innovative thinking, and valuable lessons for the PR professional. Public Relations is a dynamic field, and PR News does the best job of making sure I'm prepared to meet the evolving expectations of my senior leaders."
Linda Rutherford Vice President, PR & Community Affairs Southwest Airlines
"I read PR News because it is a quick, current and insightful news digest. I share PR News with my colleagues to provide new viewpoints on key communications issues of the day."
Carol Cone Strategic Counsel Edelman View More Testimonials Already a PR News subscriber? Renew your subscription today!

Group Subscription Packages:
Save up to 60% on custom programs. Contact Laura Snitkovskiy at laura@accessintel.com or 301-354-1610 for custom pricing. Get more info on Group Subscriptions
Money Back Guarantee:
If you are ever dissatisfied with your subscription, you may cancel at any time and receive a refund for all unmailed issues. To order by phone or email, please contact the Client Services department at 888-707-5814; clientservices@accessintel.com.