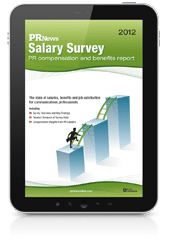 Digital Version
$99.00
Know Where You Stand in Tenuous Times
Who couldn't use some good news these days? In the communications field, given the state of the economy, all has not been bad news, as some public relations agencies continue to snare new clients and experience growth, while their counterparts in the corporate, nonprofit and government sectors explore the digital PR realm with growing social media budgets.
Chapters Include: 
Survey Overview and Key Findings
Compensation and Benefits Survey Results
State of PR Compensation and Workplace Insights
Then, however, there's the bad news. Life is uncertain for many PR professionals, as layoffs and budget cuts affect the industry. The state of the economy—driven into a deeper chasm toward the end of 2011—and the consolidation of agencies make life for a PR professional uncertain.
It is important to fully understand exactly where the industry currently sits during such an economically tenuous time. That is where we hope to come in. While there have been competing and contrasting calls for optimism and caution in terms of the immediate future for PR professionals, the truth is, as it generally tends to be, probably somewhere in the middle. To assess where the PR industry stands and how it is affected by the current and coming economic climate, we introduce the first PR News Salary Survey.
We hope the information within the report helps illuminate some key questions you may have about jobs, salaries and employment data within the world of public relations.
Order Your Copy Now!
PR News does not accept returns for any of the PR Press Guidebooks. All sales are final. If you have any questions or receive a damaged or defective book, please contact the Client Services department at 888-707-5814; clientservices@accessintel.com.