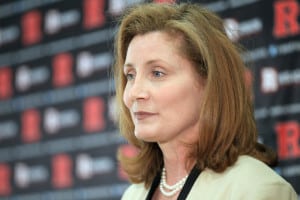 Sure, we now live a digital age, but we thought the expression, "Never argue with a man who buys ink by the barrel" was still apt for the latest PR debacle at Rutgers University:  Athletic Director Julie Hermann saying to a journalism class, "That'd be great" about the prospect of The (Newark, N.J.) Star-Ledger dying. PR pros can commence wincing.
According to Poynter.org, Hermann told the class, "I'm going to do all I can to not to give them a headline to keep them alive because I think I got them through the summer," she said.
The comment preceded last week's layoffs at the newspaper, in which 167 people were let go, or nearly a quarter of the staff, including editorial and sales executives.
In a statement from Rutgers, Hermann did not apologize or explain her attack on the newspaper.
"Her comments were in response to a broad array of student questions on a number of different subjects and were reflective of her own personal experiences," the statement read, according to several reports. "She had no knowledge of the impending reorganization of the Star-Ledger and drastic changes that the newspaper would announce several weeks later, in April."
The episode is the latest PR debacle involving Hermann.
Before she was hired last summer as Rutgers' athletic director Hermann was accused of bullying players as Tennessee's women volleyball coach, but the she was able to survive the accusations.
The irony is that Hermann had been recruited to help clean-up the scandal-tarred school, which was under fire for its handling of the Mike Rice scandal.
Rice, the men's Rutgers basketball coach, was fired in April 2013 after a videotape surfaced showing him physically abusing and berating his players in practice.
And in January, an independent investigation found that a Rutgers University football coach did not bully cornerback Jevon Tyree and the university handled the student's allegations of mistreatment appropriately, per NJ.com.
The takeaway here for PR pros is that when your brand has been dealing with one scandal after another it may not be the best idea to bash the local media.
Even when you're not dealing with so much baggage, as is Rutgers, there's very little upside to calling for the demise of a local newspaper.
What adds insult to injury is that Hermann is kicking the Star-Ledger when it's down, and, like many newspapers, faces an existential threat because of the Web.
It's one thing for executives and athletic directors to have a less-than-flattering opinion about media coverage of their brands and organizations, which is fine.
But Hermann's statement about the Star-Leger is simply bad form, and has now made the job of senior PR reps at Rutgers all the more problematic.
Follow Matthew Schwartz on Twitter: @mpsjourno1