For C-suite executives who continue to pooh-pooh the benefits of using social media, they may as well be howling at the wind, Lear-like (and we all know that didn't have a very happy ending).
▶ Join the (Social Media) Band: Nine out of 10 marketers now use social media for multiple purposes, including exhibit marketing (80 percent), event marketing and other general marketing purposes (86 percent), according to Exhibitor Media Group's 2014 Social Media Marketing Survey.
The study took the pulse of 400 marketers. It showed that within the last four years there has been a steady increase among marketers using social media for said marketing efforts (see below). The biggest increase was in exhibit marketing, followed by general marketing. The study also points to the growing nexus between earned media (which good PR should generate) and paid media (generally defined as ad buys): About 41% of the respondents who have explored paid features on various social-media sites claim those features were worth the investment.
What is more, the study splashes cold water on the belief—fairly widespread among brands and organizations—that the marketing benefits of social media are "free." Twenty-eight percent of marketers have invested in paid features (such as boosted/promoted posts, ads, etc.) to propel their success on sites such as Facebook and Twitter.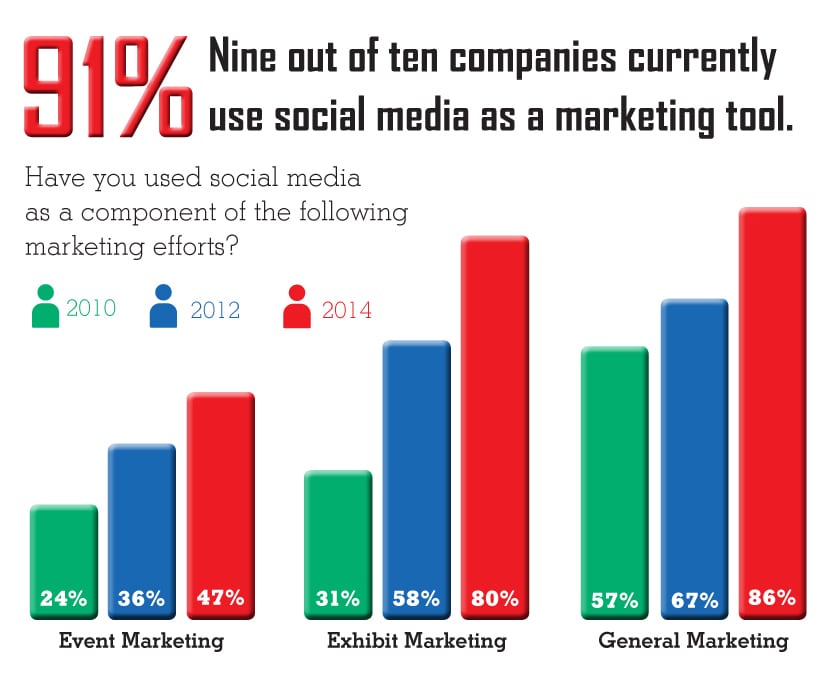 This article originally appeared in the October 6, 2014 issue of PR News. Read more subscriber-only content by becoming a PR News subscriber today.