There is nothing pretty about the Planned Parenthood crisis or the situation confronting Bill Cosby. Abortion and sexual assault are controversial and uncomfortable topics. Both are indicative of how society traditionally has viewed subjects that no one wanted to talk about—and how that is changing rapidly. In their response to respective crises, one tried to broadcast its message while the other remained silent. As their report card grades indicate, one weathered its crisis, the other did not.
BILL COSBY
After years of silence, whispered rumors and sevral lawsuits, women have been coming out of hiding and publicly accusing the iconic entertainer of sexual assault. Cosby consistently has denied the accusations. But evidence has been mounting steadily, including the release of a deposition from a previously sealed court case in which Cosby admitted he had given Quaaludes to women. That testimony—combined with a recent cover story in New York focusing on Cosby's accusers—provided the tipping point for the entertainer's former sponsors and supporters to almost universally abandon him. What is more, the cover story has sparked a much larger conversation about victims of sexual assault.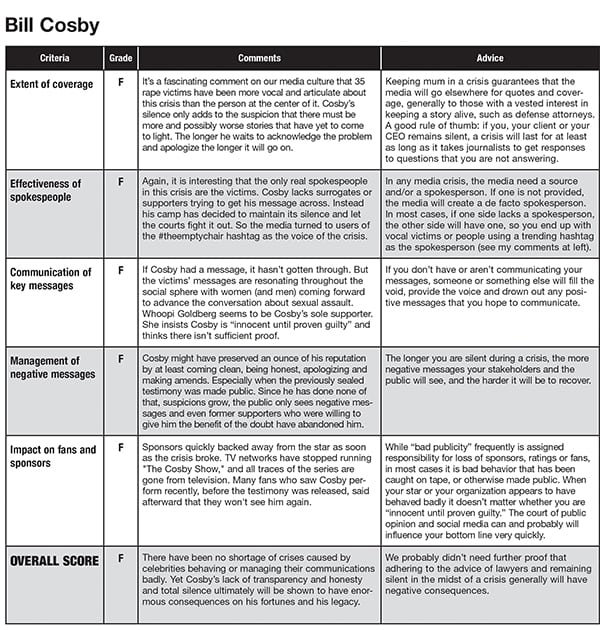 PLANNED PARENTHOOD
The release of secret videotapes—taken by employees of an anti-abortion group posing as potential buyers of fetal tissue—is the latest in a series of sophisticated communications strategies used by conservative groups looking to defund Planned Parenthood and discredit the organization. Planned Parenthood's official position is that it has done nothing illegal, but the organization hasn't been proactive in its communications.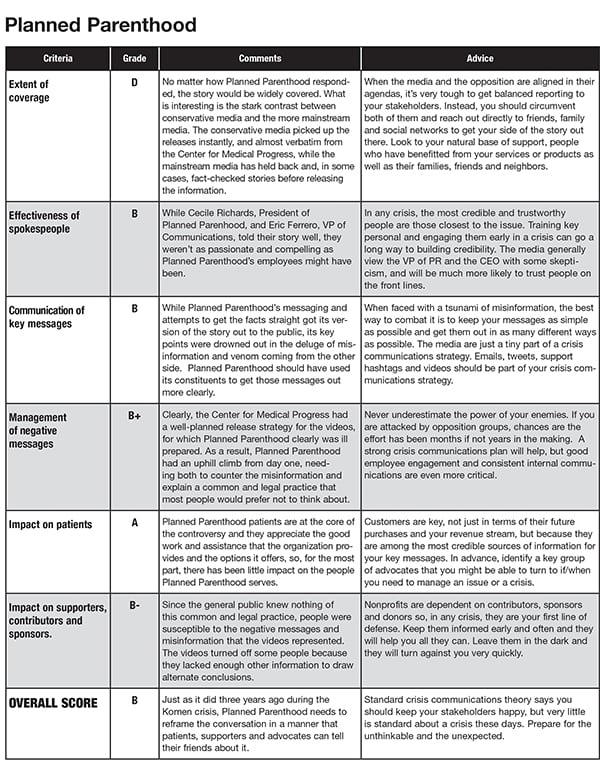 CONTACT: Katie Paine is CEO of Paine Publishing. She can be reached at measurementqueen@gmail.com
 This article originally appeared in the August 10, 2015 issue of PR News. Read more subscriber-only content by becoming a PR News subscriber today.