Consumers consider brand video the preferred way for marketers to share information, per a new study. Yet despite the high demand, most companies say video is not a top priority (excluding ads).
▶ Disconnect from Demand for Online Video: The stats associated with online video are staggering. More than one billion unique users visit YouTube each month while 100 hours of video are uploaded to the video platform every minute. Indeed, the public seems to have an insatiable appetite for online video content. Don't tell that to marketers. The majority of them (75%) are not prioritizing video beyond advertising, and nearly half (49%) are failing to dedicate enough of their budget to video, with currently no plan to change that in the next year, according to a new survey. The survey, which was released by Levels Beyond, took the pulse of more than 1,000 consumers and 500 marketing pros.
For PR managers who are eager to ramp up their online video programming, it doesn't have to be a tough sell to the C-suite: 59% of the respondents said they're likely to watch videos when they visit a website that has video content, and 40% of the respondents said that they would rather watch a video than read information from a brand containing the same information. There are myriad types of video that consumers like to watch, with how-to/instructional videos being the most preferred. PRN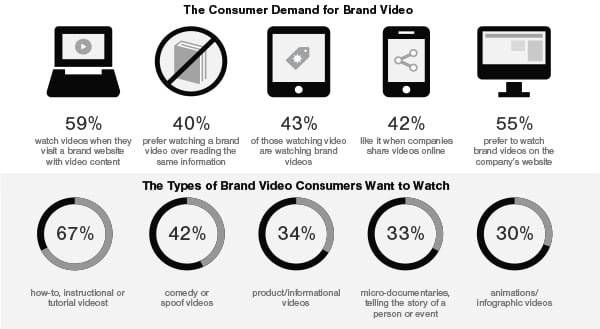 This article originally appeared in the August 25, 2014 issue of PR News. Read more subscriber-only content by becoming a PR News subscriber today.