Company: Society of Actuaries
Agency: GolinHarris
Timeframe: April 2006-present
Much conjecture has been put forth about which industries stand to make bank off the financial hardships of others—foreclosure attorneys, generic food brands, default mortgage services, demolition crews and the like. Largely absent from such discussions of recession-proof professions has been the actuary—that is, the financial risk management professional.
In fact, as early as 2006, the Society of Actuaries (SOA) had taken note of what it suspected was a disproportionately low incidence of actuaries in corporate leadership positions. Not only were they being beaten out in the senior-level job market by other financial professions, but the organization felt that employers and clients alike generally had inaccurate perceptions of what actuaries really were—most notably, that they were averse to taking risks.
In light of this, the SOA needed to bolster its collective "hireability"—a decidedly ironic objective in the context of the currently dismal job climate. However, actuarial work, at the time, was not only misunderstood by many employers, but was also desperately needed.
Enter GolinHarris and its internal communications agency InsidEdge. According to SOA director of communications Lisamarie Lukas, the agency was tapped to help transform actuaries into the sought-after senior-level job candidates that they knew they were.
"We believed that, as employers became more broadly aware of actuaries' insights and expertise, there would be an increase in the likelihood of actuaries being considered for senior risk management roles," says Patrick Gould, VP of GolinHarris. "Our challenge, then, was to mine the existing thought leadership and find a variety of opportunities to expose that thought leadership to the C-suite audience."
In doing so, SOA had to maintain the profession's status within its traditional industries (such as insurance and employee benefits), while still fueling progress into new ones. It had to target industries that were stomaching the fiscal burdens of global competition, a retirement boom and sinking healthcare costs—sectors that needed risk management services most. In short, the team had to rebrand an entire profession.
BRIDGING THE GAP
GolinHarris began its research by conducting interviews with actuaries and top executives in order to quantitatively and qualitatively measure the distance between the predominant perception of actuaries and reality.
The interviews confirmed the client's suspicions—employers and clients alike regarded actuaries chiefly as technical savants, but not as organizational leaders. Thus, the team constructed a three-tiered bridge to close the perception-reality gap:
• Brand positioning statement: The team created an elevator pitch-style statement: "Actuaries bring a complex future into focus by applying unique insight to risk and opportunity. Known for their comprehensive approach, actuaries enable smart, more confident decisions."
• Tagline: The team wanted to promote the message that risk is not always negative and, as such, employers and clients alike should be encouraged to rethink their attitudes toward risk. In addition, actuaries shouldn't hesitate to venture outside their comfort zones. They settled on a short but compelling tagline: "Risk is Opportunity."
• Platforms: The team identified some of actuaries' most advantageous and oft-overlooked traits to include in messaging: Actuaries are well-versed in economic and social change, are trained to develop tangible risk management solutions to complex problems and are well-positioned to bring their centuries of experience to more influential positions.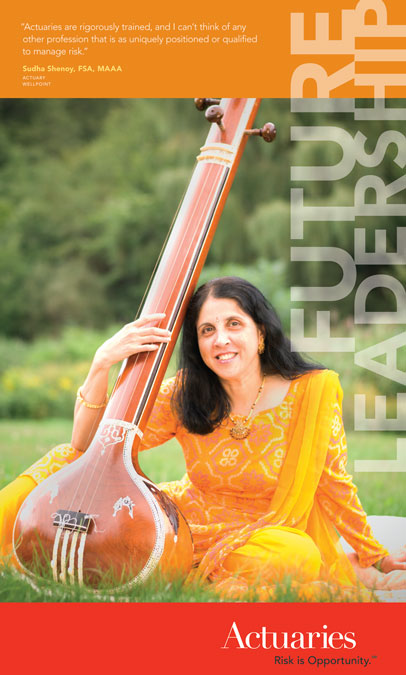 Testimonial ads like this one are part of an intensive effort led by the Society of Actuaries and GolinHarris to rebrand actuaries as viable candidates for corporate leadership positions. Photo courtesy of GolinHarris.
ACTUALIZATION
The campaign's launch consisted of an extended multimedia presentation at SOA's 2006 annual meeting, beginning with a video (produced by GolinHarris) that debuted the organization's new mantra through testimonials from actual SOA members.
Then, the team held workshops that were tailored specifically to exemplify the "Risk is Opportunity" ideal. The team later launched a poster campaign that depicted actuaries who were indeed "living the brand." The launch plan was designed to first alter the way that actuaries thought about themselves—and once the plan was fully implemented, everyone else would follow.
The first element of the plan was to maintain this new image, and with its Actuaries in Action (AIA) initiative, the team began constructing a technical database of true stories of actuarial success. These examples could then be used by the organization to identify spokespeople and thought leaders, as well as to generate issues of interest to present to external stakeholders.
In 2007, the AIA program launched the Actuaries' Speakers Bureau, which directed the message towards senior executives. The team landed SOA members as both panelists and keynote speakers at high-profile events like the U.S. Pension Summit and the Conference Board Enterprise Risk Management Conference.
As part of an aggressive media relations campaign, the SOA Retirement 20/20 initiative worked to emphasize the leadership roles that actuaries have played in the development of our modern retirement system. Targeted at those with vested interests in developing new retirement systems, 20/20 helped nudge actuaries into the relevant discourse. Therein, the team netted an account-high 150 million total media impressions in 2008.
Most recently, the partnership has worked to capitalize on the increased need for risk management services by educating clients and employers about what defines risk in today's climate and about the unique skill set that actuaries can bring to leadership roles.
SOA developed a new credential—Chartered Enterprise Risk Analyst (CERA)—implemented to benefit actuaries and businesses alike. In addition, a new platform was inaugurated, titled "Decisions, Decisions: Businesses at Perilous Crossroads," which examined the essential components of effective risk management systems through media briefings and speeches.
In the near future, the ongoing partnership stands to capitalize on the most recent trends in media and corporate communications. "We are now exploring additional means to reach the employer audience, including a new social network devoted to risk management," says Gould. "We are also working to arrange a series of one-on-one meetings between SOA leaders and C-suite executives and executive recruiters."
A RISK WORTH TAKING
The SOA-GolinHarris partnership continues to reshape how actuaries are perceived within the corporate community. To date, the effort has garnered 350 million media impressions and netted the SOA more than 300 top placements in the campaign's targeted employer/client-related targeted media outlets.
These results are complemented by a tangible shift in perception of the profession. SOA-commissioned research shows that 61% of nearly 500 employers surveyed feel that actuaries are becoming more relevant to the needs of large companies. In addition, SOA's research also found that:
• Overall awareness of the organization's efforts was between 25% and 40% across the targeted sectors, with nearly half of those respondents claiming that the campaign had a positive impact; and,
• Of the employers that were exposed to the campaign, 67% claimed they are likely to increase their use of actuaries in the next 3-5 years. Only 50% of those not exposed were able to make that claim.
Recent developments in the economic ecosystem stand to provide even greater credence to the campaign's tagline. According to Gould, actuaries are now more relevant than ever. "There's no question that risk management is now top-of-mind for businesses of all types, as well as for many individuals who need to consider their own risk management strategies in this difficult economy," he says.
SOA's new image has now come full-circle. "In light of the global economic crisis and financial industry downturn, organizations and corporate boards are confronting an increased breadth of risk," says Lukas—not that there's anything wrong with that.
CONTACTS:
Patrick Gould, pgould@golinharris.com; Lisamarie Lukas, llukas@soa.org