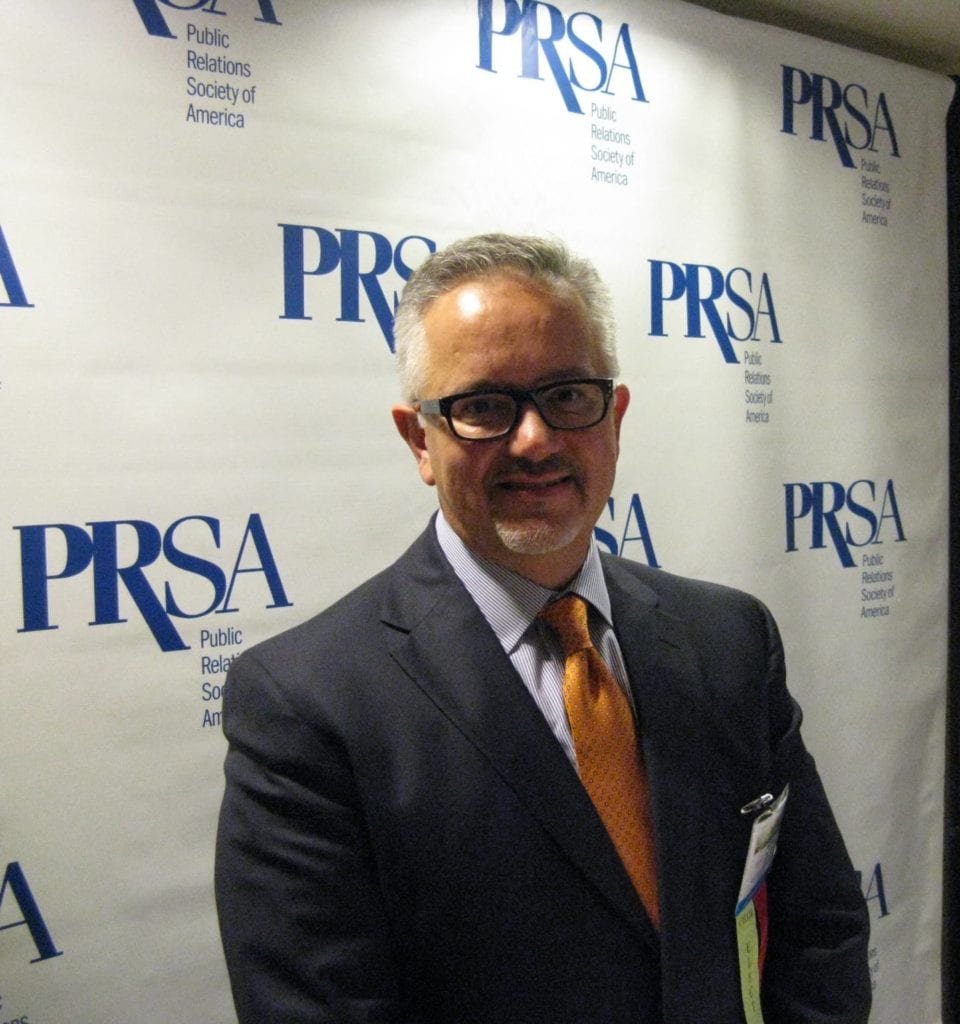 Mickey Nall
Mickey Nall is a big agency guy, and he believes he can rely on his considerable background in handling prominent clients and make the experience for PRSA members a rewarding one. As a managing director of Ogilvy Public Relations Worldwide working in Atlanta, Nall has served in the White House Office of National Drug Control Policy as the on-site liaison between Ogilvy & Mather and the National Youth Anti-Drug Media Campaign, and counts such clients has Coca-Cola, GE, United Way of America and the U.S. Centers for Disease Control & Prevention.
PR News caught up with Nall, the incoming PRSA chair and CEO, at the 2012 PRSA Conference in San Francisco to talk about his PR passions and upcoming PRSA programs.

PR News: What PR skill is your biggest passion?

Mickey Nall: I love account management, being a big agency guy. I love helping clients develop strategic plans and managing the implementation of those plans. When I was young, starting out, I did a lot of media relations. Now it's the full business of PR—strategic planning and budgets to execution of a program. Today's clients want everything—integration of marketing and PR. They want the full experience and the best thinking. It shouldn't all be PR. Integration is key.

PR News: How will your experience at a big agency like Ogilvy PR help PRSA members who work in-house?

Nall: The core work of PR really centers around content creation. Of course that's much more than writing—it's the visual, it's storytelling. I think my Ogilvy work in that regard, plus my experience from tactical, strategic and financial points of view will definitely help.

PR News: Out of the five PRSA pillars (advocacy, business case for PR, communities, diversity and education), which one are you most passionate about, and why?

Nall: Of course we'll be concentrating on all five, but the three areas I plan on concentrating on are advocacy, diversity and ethics. Why? Because our members are asking that we place an emphasis on these issues. For advocacy, we're hoping to improve the understanding among the public of what it stands for. How? When there's a negative reporting in the media on some aspect of PR, we'll make it a point to issue a statement that corrects any misperception.
We've made some movement in the diversity space. Diversity is really about inclusion more than anything. Our job is to go beyond generating awareness to generating solutions for the industry. If it's awarding 10 different scholarships that promote diversity, let's do it. I'm looking to put money behind the effort.
As for ethics, our members place a lot of value in our code of ethics. Ethics can be challenging to teach. I'm not sure how we measure our success, but we recently had an ethics tweet chat for members that was popular. Should the PRSA be an ethics enforcer? I don't think so. But we can provide some education that points the membership in the right direction.

PR News: What about measurement initiatives? What is the PRSA doing there?

Nall: First, we participated in the development of the Barcelona Principles, and will continue to help set measurement standards. We also do a lot of professional development courses on measurement—the strategies and techniques.

PR News: What has been the most interesting and challenging campaign you've led at Ogilvy within the last year?
Nall: Some of the most interesting work I've been doing is with Communities in Schools of Georgia. I've been working with them on parent engagement—developing a public campaign with tools that both teachers and parents can use. You'd think parent engagement would be a gimme, but it's not. We're just wrapping it up and I believe it will have a good impact on education in the state.
PR News: Speaking of those kinds of programs, Biz Stone of Twitter said yesterday in his keynote speech at the PRSA Conference that altruism is becoming the norm and will be one of the pillars of business. Do you agree with that?

Nall: It's true that just about every major organization has a CSR program, and most of them do give back in some way to the community. What's interesting is the strategy of galvanizing consumers to seek out your business because it has values similar to their own. That's not a trend—it's becoming the norm.
Follow Scott Van Camp: @svancamp01; Mickey Nall: @mickeynall