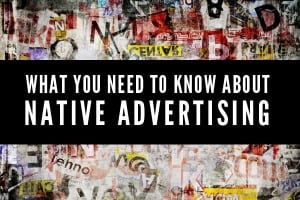 We're all going "native" now. The Interactive Advertising Bureau Wednesday is releasing a white paper on so-called "native advertising," or branded content, at the same time that the Federal Trade Commission is starting to hold daylong town hall hearings on the matter. Communicators should pay careful attention.
Native advertising, which contextually melds advertising content to editorial content, has exploded in the last couple years, as the Web has upended traditional advertising spending.
Native social advertising is expected to grow to $4.6 billion in 2017, from $1.6 billion in 2012, according to research firm BIA/Kelsey (per the New York Post).
While native advertising is seen as a way for media companies to generate new revenue, critics say that the trend compromises the integrity of both media companies and brands. But it seems as if native advertising is winning the day.
With integrated communications becoming the norm, PR pros are increasingly being asked to develop and distribute branded content.
In many cases, communicators are working with their ad brethren in developing such content; in other cases (at both the corporate and agency levels), PR pros are creating the content on their own.
With that mind, here's a refresher on what communicators need to know when crafting branded content, compliments of Sam Ford, director of audience engagement at Peppercomm.
> Consider the level of transparency. Some "native advertising" has gotten a little too "native," in the sense of forsaking proper disclosure. A range of providers now offers paid links connecting your content to (let's hope) relevant material elsewhere.
> Consider your audience. The whole concept behind storytelling as a brand is to share content about what your audience wants to know rather than what the company wants to say. A simple test for any content is to take off your PR and marketing shoes and look at the content from the audience's perspective. Does it focus on issues and subjects that people are talking about outside of your brand?
> Consider the context. You may have the right story to tell, but timing is everything. Is your content being shared at the places where audiences would welcome seeing it? Is it being shared alongside content that you would want your brand to have? Is it being shared in places your audiences populate? Too often, the right content ends up in the wrong context.
What's your take on PR's role in developing branded content?
Follow Matthew Schwartz: @mpsjourno1