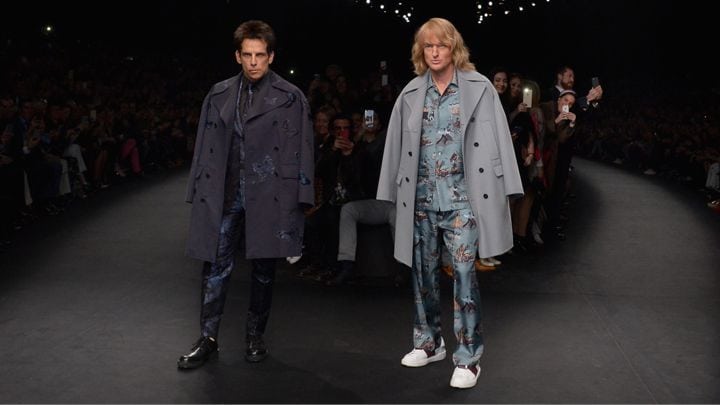 It's another sign that press releases and other traditional announcements just don't cut it anymore.
To help plug the sequel to the 2001 comedy Zoolander, Ben Stiller and Owen Wilson hit Valentino's Paris Fashion Week runway decked out as their fan favorite characters, Derek Zoolander and Hansel.
The PR stunt was accompanied by full-court press via social media.
According to a tweet from Paramount Pictures, Zoolander 2 will be released in February 2016. Stiller confirmed that news on Instagram, where he posted a picture of himself and Wilson with the caption, "Apparently Derek and Hansel have come to terms on #Zoolander2."
Sure, most brands and organizations don't have access to A-list Hollywood stars or a premier Paris runway to help promote their products and services. But the promotion-cum-fashion show still provides a few takeaways for companies that have a new message to get out and want to cut through the proverbial clutter:
Use the element of surprise. The Zoolander 2 PR stunt probably worked so well because it had the element of surprise. "Who knew?" is the reaction you want from your customers and prospects when you have a new message to get out. Developing a rollout with the element of surprise may not be as difficult as preventing the idea from leaking out to the media or other stakeholders, which may force you to regroup without a lot of time to spare.
Go big or go home. Tap a marketing partner within your sector that's closely related to your organization and has a good deal visibility. Develop a fun and interesting way to partner with that organization and position it as a win-win. The company gets more exposure compared to if it had rolled out the product or service on its own and the partner gets coverage it otherwise would not.
Find the funny. While your product may not be meant for laughs per se, that doesn't mean you can't find a humorous way to tell a new story or roll out a new product. Consumers will recall something that's funny much more so than something that's delivered in a serious tone. And you don't have to go to Paris to do it. Social media and online video programing, for example, provide relatively inexpensive ways to get a message out. The onus is on PR managers to develop the humor or enlist others who can.
Follow Matthew Schwartz on Twitter: @mpsjourno1