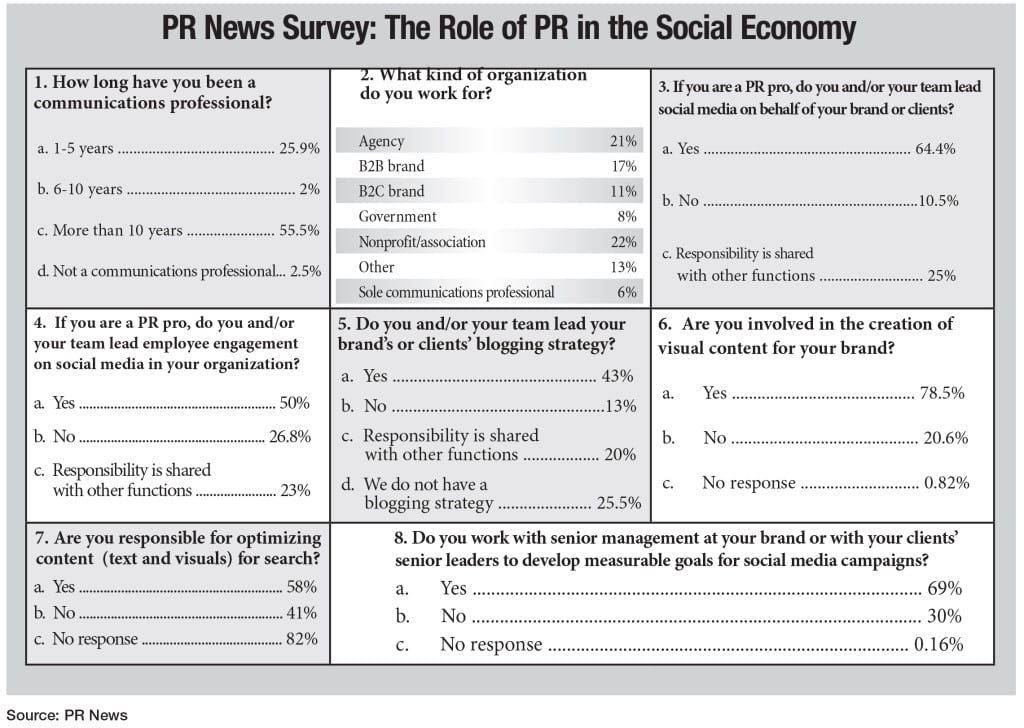 In the last few years, social media has quickly moved to the core of marketing communications. As a result, PR executives of all stripes are jockeying to take the lead on social channels. Now it appears as if they're making some progress. Nearly two-thirds (64%) of PR pros lead social media either in-house or for their clients, according to a new survey conducted by PR News. "The Role of PR in the Social Economy," which was distributed this month, garnered more than 600 responses. It took the pulse of both PR veterans and newbies, residing in both B2C and B2B precincts, as well as the nonprofit and government sectors.
While it's a mixed bag when it comes to leading employee engagement on social media or their company's blogging strategy, communicators are in the driver's seat as far as working with senior management to develop measurable goals for social media campaigns (69%), the survey said.
Communicators on the front lines stress that if PR execs can show how social channels can juice the top and/or bottom lines, bigger PR budgets should follow. Allan Gungormez, enterprise director of social media strategy at Transamerica Corp., plays a key role in the company's digital marketing department, which in the last year has grown to a staff of 40 people.
Buy-in from the tippy top, combined with the team's ability to demonstrate the value of social channels, has changed upper management's overall outlook on social media. "After a few months, some quick wins and showing [senior executives] what we could do, we've had many people come out of other departments wanting to see how they can get involved and how to get traction for their services" via social platforms, he said. "We've made sure to tie our goals back to the business."
Those goals include (but are not limited to) generating leads, moving consumers along the sales funnel, increasing brand relevance and boosting customer loyalty.
Maureen McCarty, associate director of digital media at the Human Rights Campaign, said that while it's important to have a clear social media strategy outlined for a campaign, it is equally valuable to adapt when the time comes.
The shine on social media long since dulled, PR managers now need to think about being more discriminating when it comes to how to maximize the various social channels and get the biggest bang for their buck.
"The PR industry as a whole is learning very quickly how to adapt to the evolution of social channels," said Danny Olson, director of digital media at Weber Shandwick. " Facebook has turned into a broadcast channel, with organic reach falling, while Twitter is becoming a real-time news engagement opportunity [and] Pinterest more of an intention space that people come back to." He added: "You have to pick the channels that are working the hardest for the brand and double-down."
Baylor Scott & White Health, a nonprofit health system, uses many of the social channels, but for decidely different purposes.
Scrubbing.in, the company's blog, is a hub for all the information the company shares with its constituents, while the company's Facebook page features more targeted messaging designed for patients and fans. And on Pinterest, the company "pins" material that's designed to educate their stakeholders on how to lead a healthier life.
"We also monitor mentions on all platforms, including Facebook and Twitter, to handle any negative comments in a timely fashion," said Nikki Mitchell, VP of PR. "The support we provide our online customers/patients is some of the most valuable work we do."
CONTACT:
Allan Gungormez, allan.gungormez@transamerica.com; Maureen McCarty, maureen.mccarty@hrc.org; Danny Olson, dolson@webershandwick.com; Nikki Mitchell, nikkimit@BaylorHealth.edu.
 This article originally appeared in the August 11, 2014 issue of PR News. Read more subscriber-only content by becoming a PR News subscriber today.