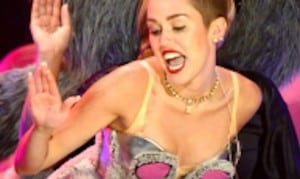 Sunday night MTV held its annual award show honoring the best music videos of the year. Of course, we all know what the VMAs are really about: celebrity pageantry. And this year was no different.
The show generated plenty of Monday morning headlines, and PR pros all know how important that water cooler buzz can be. The night turned in several surprises and was a genuine public relations fiasco—or was it?
Instead of recapping the VMAs, here's a report card from the PR perspective for the best and worst celebrity publicity of the night.
MTV: The VMAs were once a ratings juggernaut, however, recently ratings have been slipping and interest has waned. But this year MTV recaptured some of the mojo that made the network what it is. The network gave its viewers a provocative program and reconnected with its roots, and most important, captured a lot of today's headlines. A
Justin Timberlake: JT once again established that he is one of the biggest pop stars on the planet. Not only that, he reunited with his pop super group NSYNC. Both Timberlake and his bandmates reminded everyone what class acts they are and what they mean to modern pop music. A
Daft Punk: Despite being the most talked about selling point of the VMAs prior to the program, Daft Punk was somewhat forgotten about after they failed to appear. A few weeks ago the band canceled an appearance on "The Colbert Report" because they had an exclusivity arrangement with MTV. Apparently that agreement was ignored too and the band turned out to be a no-show . Part of Daft Punk's allure is their mystery, so they certainly upheld that image. Still, fans were disappointed, and the band missed an opportunity to be part of the bigger conversation. D+
Taylor Swift: Predictably Taylor Swift. Nevertheless, she did manage to make a few headlines by implying that her ex, Harry Styles, should… well, stop talking (expletive deleted). B
Lady Gaga: Oh yeah, Lady Gaga was there, too. Remember when her very appearance at any event was enough to generate headlines? Well, times have changed. Gaga's appearance was predictable and offered nothing new. C
Robin Thicke: Thicke delivered his "Blurred Lines" track, which has been playing nonstop around the country. He upheld the suave lady's man persona from the song and video. That said, it looked like he borrowed his suite from Beetlejuice, and some of his fans were dumbfounded by his antics with Miley Cyrus. Thus, his grade suffers a bit. A-
Miley Cyrus: Love it or hate it, the night belonged to Miley. Perhaps her behavior was a bit too salty for some, and perhaps her vocal performance wasn't quite up to snuff. Regardless, she is grabbing up headlines everywhere and her brand essentially evolved overnight. In terms of generating buzz, Miley delivered big time. A
Follow Caysey Welton: @CayseyW