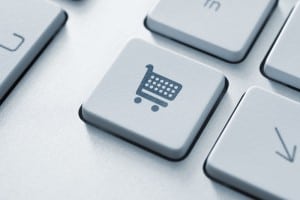 As if PR managers didn't need another excuse for working more closely with their sales and marketing counterparts, here's a pretty good one. Twitter will reportedly roll out a "buy" button later this year, making it easier for consumers to buy things directly from the microblogging network.
Twitter is partnering with Stripe, a payments services company, to integrate a "buy" button into tweets, according to Re/code.
After clicking on the button on Twitter, shoppers are expected to be able to enter in payment and possibly shipping information without leaving Twitter's service.
No longer a novelty, "buy" buttons, are starting to become de rigueur on the Web.
The Washington Post, for example, has been embedding buy-it-now links in articles for "many years" a spokeswoman for the Post told Digiday after the website last week reported that the Post—which Amazon founder Jeff Bezos acquired last summer for $250 million in cash—had began testing Amazon "buy-it now" links in articles.
The trend to run more buy-it now links online puts the onus on PR pros to produce the type of content that can be aligned with the sales and marketing funnel.
Indeed, consumer brands are starting to ramp up their E-commerce efforts via their social channels, Twitter in particular.
Coca-Cola in late July introduced its Tweet A Coke program, which invites Twitter users to send $5 Cokes to friends via the micromessaging service. And Last October, Starbucks launched Tweet-a-coffee, which enables people to send Starbucks Card eGifts to Twitter friends and followers and expands on the coffee king's existing eGifting platform.
As buy-it-now buttons become the norm, communicators will have to produce content that not only engages consumers but also makes them more willing to consider acquiring your products and services.
That starts, of course, with meeting regularly with sales and marketing executives to get a sense of what buyers like and not relying strictly on gut checks.
Follow Matthew Schwartz on Twitter: @mpsjourno1