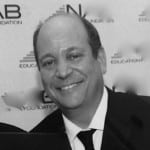 Veteran journalist Seth Arenstein has been named editor of PR News' cornerstone weekly premium publication and will lead the media brand's premium content products, which include its how-to-focused guidebooks serving communications professionals. Arenstein has been a senior editorial advisor for PR News, contributing to both the weekly publication and the guidebooks.
Arenstein will be bringing to PR News' premium weekly publication his top-flight writing and editing skills, as well as his talent for building strong industry relationships.
He has more than two decades in journalism, covering fields as diverse as foreign affairs, defense, medicine and television. Previously he was a longtime member of the editorial team at Cablefax which, like PR News, is owned by Access Intelligence; he continues to write columns for Cablefax.
Arenstein has been stationed at the White House, the Pentagon, NASA headquarters and most of the major cities in the country. "I've also been working with PR News for nearly a year," Arenstein says. "So, as you can imagine, I have extensive experience working with PR professionals. I'll be adding more unique, practical content to our mix of career-building case studies, strategies and tactics over the next few months. One of my goals is that PR News will become more of a two-way conversation with its loyal subscribers."
In his spare time, Arenstein plays trumpet in the Washington Conservatory of Music Orchestra and teaches trumpet at Music on the Hill. He's also been studying and performing improv for six years in the D.C. area.
Contact PR News editor Seth Arenstein at sarenstein@accessintel.com to share any story ideas or content suggestions.
Follow Steve Goldstein: @SGoldsteinAI