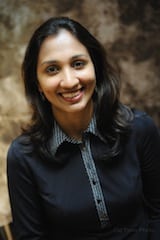 Priya Ramesh
Are you busily posting questions, content and links on your Facebook page but unsure whether your audience is even seeing your posts in their News Feed? Well, you have new cause for concern: Facebook recently updated its News Feed, selecting with its algorithm those posts it deems to be most important and running those at the top of a user's feed.
Priya Ramesh, director of social media strategy for CRT/tanaka, a marketing and PR agency, will be on hand at PR News' Facebook Conference on Dec. 1 at Washington, D.C.'s National Press Club to guide communicators in the nuances of the updated News Feed and show them how to make sure their posts are visible to their target audiences. Ramesh offers a preview of her presentation in the following Q&A.
PR News: Which of Facebook's newest features should PR pros pay attention to most?
Priya Ramesh: Facebook's upcoming Timeline is going to be extremely helpful for brands in how they differentiate themselves. So far on Facebook, businesses have only been able to put their logos in the small, square profile box. But now with Timeline, PR pros and marketers will have a greater opportunity to showcase their brands. So Coca-Cola, for instance, will be able to show their journey through the decades. There will be so much more to share and more opportunities to have in-depth engagement.
I have been closely following Facebook, and if you just look at the partnerships it has now with Amex, Procter & Gamble and eBay, in the next two to five years, Facebook is going to be the next Google+, Amazon and eBay all combined. Nielsen reported that in July 2011 53.5 billion minutes were spent on Facebook. Everyone else is trailing way behind.
PR News: What's your take on Google+ as it stands right now?
Ramesh: From a PR perspective I don't see any value with Google+. It's the PR and marketing people talking to each other. Facebook wants to be the platform that says "you come to me, you share information and then you're buying things from me."
PR News: What is the most common misconception PR pros have about how Facebook's News Feed works?
Ramesh: The classic misconception that communicators and marketers have about Facebook's News Feed is that more is better—that if you post frequently it's going to show up at the top of people's News Feed. Chronology, or frequency, is not king; content and comments are king. Each time you post something, ask yourself if you posted something of value.
It's engagement that Facebook's algorithm calculates. Think of clever ideas of engaging with your audience on Facebook. Ask yourself how do I get people to come to my wall and say something.
PR News: Complete the following: In two years Facebook will be___
Ramesh: The social e-commerce platform your mom, your customer and you will be using.
PR News: What's the best way to have someone in senior management become a champion of social media?
Ramesh: I wish I had an easy answer to that. There are some companies that just get social. The CMO doesn't need to be highly engaged and tweeting, but there needs to be a level of trust. If they just have a little bit of trust, an organization will go far in social media.
PR News: Can you share one takeaway you'll be offering attendees at the Dec. 1 Facebook Conference?
Ramesh: Your post-to-comment ratio should be 1-3, at least.
Priya Ramesh will be joined by co-presenter Katie Harbath, associate manager of policy for Facebook, on the panel "How to Make Your Content Rise to the Top of Facebook's News Feed" at PR News' Dec. 1 Facebook Conference in Washington, D.C.