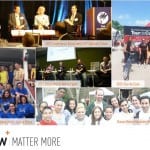 Engagement and ingenuity ruled the day at PR News' 2013 Digital PR Awards luncheon, as more than 200 agency and in-house PR executives gathered to celebrate the top digital campaigns of the past year at New York's Grand Hyatt on Nov. 5, 2013. Among the winners were Cisco Systems and MWW (co-winners for Digital PR Team of the Year); Richard Licata, EVP, communications, NBC Entertainment (Digital Communicator of the Year) and Quaker & Huge (WOW! Campaign).
Jonathan Stephen, head of mobile & emerging technologies at JetBlue Airways, shared insight into JetBlue's digital engagement strategies in his keynote address. The first step in the design of any of JetBlue's digital products, including website overhauls and mobile apps, is an intense listening campaign. "Find out what your audience or customers want from you first—then build it," Stephen said.
(See the complete list of 2013 Digital PR Award winners and honorable mentions, and profiles of the winners.)
2013 Digital PR Award Winners
Blog
Winner: Edelman Digital - Why VW: Volkswagen's Storytelling Platform
The "Why VW" blog campaign was developed by Edelman to allow consumers to connect and submit their Volkswagen stories online; since its launch, it has received over 1,300 user stories and more than 2.8 million page views from over 720,000 unique visitors.
Cause Marketing/CSR
Winner: Havas PR - Ford Warriors in Pink: Fighting Breast Cancer with the Power of Digital Storytelling
Havas and Ford teamed up for Ford's Warriors in Pink: Fighting Breast Cancer with the Power of Digital Storytelling campaign, which has had two record-breaking years in a row; in fact, in that time, it has raised more than $938,000 from people who read stories, saw the documentary "Bang the Drum" or got a tweet and then felt inspired to go to fordcares.com and buy Warriors in Pink products.
Contest/Game
Winner: AT&T with FleishmanHillard - The It Can Wait No Texting While Driving Movement
Through a 3D texting and driving simulator, AT&T, with the help of FleishmanHillard, has seen its "It Can Wait No Texting While Driving Movement" gain significant momentum among teens; for example, more than 1.6 million have taken the pledge to not text while driving at ItCanWait.com and through Facebook, Twitter, simulator events and text-to-pledge initiatives.
Crisis Management
Winner: Royal Caribbean Cruises Ltd. - Fire onboard Grandeur of the Seas
Royal Caribbean's response following the Grandeur of the Seas fire—which included leveraging social media—kept media coverage balanced during the incident. For a week following the fire, there were more than 950 mainstream media pieces, 58.6 million impressions from Twitter and more than 3,375 Facebook posts—with 93% of the media coverage of the fire being either neutral or positive.
Digital Marketing Campaign
Winner: Major League Baseball - MLB Fan Cave
The Major League Baseball Fan Cave generated nearly three times as many media impressions in 2012 compared to 2011, and its social media impressions grew by a whopping 730% (1.7 billion vs. 230 million).
Digital PR Campaign - $100K and under
Winner: Pizza Hut Searches for Manager of Digital Greatness
At the South by Southwest Interactive Festival in Austin, Texas, Pizza Hut launched a first-of-its-kind interviewing method: 140-second interviews for a cutting-edge new position, the "Manager of Digital Greatness. Not only was Pizza Hut able to fill the post, the company also received a bounty of media coverage.
Digital PR Campaign - $100-$200K
Winner: Las Vegas Convention and Visitors Authority - Prince Harry
After photos surfaced of Prince Harry enjoying a night in Las Vegas that included a game of strip billiards, the Las Vegas Convention and Visitors Authority reminded the world that what happens in Vegas really stays in Vegas, and drove traffic to a "Know The Code" microsite, where people could pledge to keep Las Vegas secrets secret.
Digital PR Campaign - $200-$500K
Winner: Cone Communications - National Parks Go Digital: Cone Communications launch of Nature Valley Trail View
Cone launched The Nature Valley Trail View—a digital platform offering 300-plus miles of immersive content for three of America's most iconic national parks—at South by Southwest Interactive 2012 with the help of Mashable, inspiring unusually positive social media chatter for a CPG company like General Mills.
Digital PR Campaign - $500K+
Winner: Purple Door Communications - Fresh Step Presents the Catdance Film Festival: A High Meow Approach to Cat Videos
In order to bring more attention to its brand, Fresh Step litter, with the help of Purple Door Communications, opted to reinvent the cat video genre by creating the Catdance Film Festival which, in addition to holding a live event in Park City, UT, debuted 12 films online once a week for three months and received more than 2 million video views during the campaign.
Email Newsletter
Winner: Hunter Public Relations - Hunter PR's The 511 e-Newsletter
During the last year, the total number of new subscribers to Hunter PR's The 511 e-newsletter has more than doubled, and in that time, the average open rate for The 511 has been 25.2%, nearly three times the average for marketing newsletters.
Employee Communications Online
Winner: Intuit - Gamification: Speedboats and Battleships
Intuit's "Speedboats and Battleships" set out to increase employees' awareness of Intuit's competition, get a better understanding of Intuit's own products and do it all while having some fun; ultimately, the game was a success, as 4,337 employees participated (more than half of Intuit's workforce) including more than a dozen senior leaders and the CEO.
Facebook Communications
Winner: RF|Binder - Building the Talenti Gelato & Sorbetto Facebook Community
Through creative sweepstakes and contests and engaging posts, RF|Binder helped the Talenti Facebook community grow from 4,000 fans to over 96,000 in under two years, with over 9,000 people on average talking about Talenti, an average of 1,072 comments and 400 shares per month.
Influencer Communications
Winner: The Clorox Company - Clorox Launches Ick-tionary with the Help of Online Influencers & Ick-sperts
Clorox set out to celebrate the "everyday ick" parents face through a cross-brand campaign that created a new "language of mess" online by parents, for parents; in just the first two weeks after launch, more than 140 words were created by consumers based on their own personal "ick- speriences," and they were submitted to www.icktionary.com to be added to the new language.
Intranet
Winner: AT&T Employee Communications - Insider Mobile: AT&T's First-ever mobile Intranet
The goal of AT&T's Insider Mobile application was to create a customizable digital workspace aimed at improving productivity and information sharing anywhere employees need to do their job—and do it quicker and more efficiently; with the help of FleishmanHillard, there have been a total of 12,880 installs and it has been downloaded the most by frontline employees, the target demographic for the app launch.
Listening Campaign
Winner: MasterCard Worldwide - From Transactions to Transformation: Bringing MasterCard to the Conversation
The Mastercard Conversation Suite is a Web-based analytics tool supported by a global team of social experts who monitor, analyze and engage in conversations around the world 24/7; since implementing the Conversation Suite in May 2012, MasterCard has dominated the emerging payments dialogue, driving a 400% increase in online engagement within three months of the platform's use.
Media Relations Campaign
Winner: MWW - McDonald's New York Metro Nutrition Network
MWW and McDonald's NY Tri-State Owners/Operators Association created the McDonald's New York Metro Nutrition Network to change the conversation around McDonald's and nutrition and dispel myths about its menu offerings; in all, the campaign received more than 20 million total impressions with a total ad value of $3.6 million.
Microsite/Custom Site
Winner: Scholastic - Read Every Day. Lead a Better Life
Since Scholastic relaunched its "Read Every Day. Lead a Better Life." website in 2012, it has garnered nearly 1 million page views, 635,000 visits and 535,000 unique visitors, with a monthly high of 95,000 page views, 80,000 visits and 75,000 unique visitors.
Mobile Communications
Co-Winner: 360i & National Car Rental - "Go Like a Pro" with National Car Rental + Foursquare
National and partner 360i were able to provide value by offering hyper-relevant, localized information and a streamlined experience to customers via the successful Foursquare "Go Like a Pro" campaign; in just eight months, nearly 10,000 people engaged with National Car Rental's Foursquare presence and the brand organically racked up more than 27,000 check-ins at locations nationwide.
Co-Winner: Peter Mayer - Go NOLA
Within 12 weeks of its iPhone launch in 2012, downloads of the "Go NOLA" app exceeded 15,000; the Droid version received a total of 1,043 downloads in five weeks, despite very minimal promotion for this version, and has a total of 12,631 downloads to date.
Most Engaged Brand
Winner is: Catalyst, an IMG Consulting Company - DICK'S Sporting Goods
On behalf of DICK'S Sporting Goods, Catalyst created a consistent brand voice on social by doing a deep dive on consumer insights and conducting a series of creative exercises with senior leaders, helping the brand exceed all 2012 goals for reach, growth, engagement and chatter on social media channels, adding 1.4 million fans/followers, and experiencing 327% community growth.
New Digital Product/Service
Winner: Weber Shandwick: GoLive
Weber Shandwick's GoLive platform has been successful for a wide range of clients across industries, including technology, education, food and health, travel, and automotive; on behalf of Verizon Wireless, Weber Shandwick executed GoLive events from key conferences like CES and CTIA, creating a GoLive community of more than 20,000 Verizon Livestream subscribers.
New Site
Winner is: HGExpo - New Online Home & Garden Show
HGExpo's New Online Home & Garden Show site was designed to connect consumers searching for innovative home improvement ideas with the top local professionals who can make those ideas real, leading to eight to 10 new exhibits sold per month in the months subsequent to launch.
Online Community
Winner: Weber Shandwick for Unilever North America - CLEAR SCALP & HAIR BEAUTY THERAPY
To cut through the tangle of competing hair care products for Unilever's Clear Scalp & Hair Beauty Therapy, Weber Shandwick helped build an online community that now hovers near 1 billion fans, achieving a total post reach of 80.1 million and 222,000 "people talking about this" on Facebook.
Online Newsroom
Winner: Weber Shandwick - Verizon Wireless News Center: Dynamic Content Through Disciplined Storytelling
Verizon Wireless, with the help of agency partner Weber Shandwick, altered its approach to reaching influencers by developing an online news hub, the Verizon Wireless News Center; since launch, the News Center has received 1.3 million unique visitors.
Podcast/Videocast
Winner: Cisco Systems - My Networked Life: True Stories from a Connected World
To demonstrate the power of connected technology and position Cisco as the global leader in the future of intelligent networks, the company's social media team developed and produced a weekly video series featuring next-gen/millennial workers in 12 of Cisco's fastest-growing countries; the impact of this series continues to grow with recognition and the sharing of the series by major online publications including Huffington Post, Digiday and The Content Strategist.
Public Affairs Campaign
Winner is: Airlines for America - Don't Ground America
On April 16, 2013, the FAA advised Airlines for America and airline carriers that furloughs of air traffic controllers would begin the following Sunday; in less than 10 days, A4A led a grassroots campaign that ultimately resulted in Congressional action to resolve the issue with legislation.
Redesign/Relaunch of Site
Winner: The Coca-Cola Company - Coca-Cola Journey
The Coca-Cola Company took a quantum leap forward in its digital corporate communications with the launch of Coca-Cola Journey, the company's most ambitious digital project since the launch of its first website in 1995. Coca-Cola Journey was more than a site launch; it was also a new beginning for Coca-Cola's content strategy.
SEO Strategy
Winner: Florida Sweet Corn - Sunshine Sweet Corn
The Florida Sweet Corn Exchange leveraged Google AdWords and developed regular fresh and relevant content in order to satisfy Google's algorithms as part of an organic approach to SEO.
Social Networking Campaign
Winner: Ogilvy & Mather Hong Kong - Chengdu Pambassador
The Western city of Chengdu is not high on the list of must-see destinations in China. To change that, Ogilvy & Mather took to Facebook and leveraged the iconic and lovable giant panda.
Twitter Communications
Winner: Quaker & Huge - @RealCapnCrunch Sets Sail for Twitter
After a Reddit user posted an image pointing out that U.S. Navy captains have four stripes on their uniforms, while Cap'n Crunch only has three and thus is not a real captain, the Huge team crafted a clever and customized response using the relaunched the @RealCapnCrunch Twitter account that elevated the Cap'n into national conversations.
Use of Facebook
Winner: Weber Shandwick - Ameren Missouri Powers Change
To change the perception about the brand among its customers, utility company Ameren Missouri and agency partner Weber Shandwick launched a Facebook campaign designed to reward unsung heroes who instill positive change and community progress.
Video Campaign
Winner: Purple Door Communications - Fresh Step Presents the Catdance Film Festival: A High Meow Approach to Cat Videos
The "Catdance Film Festival"—from Purple Door and Fresh Step—featured a dozen cat videos, and helped to reel in consumers and change their attitudes about Fresh Step's premium priced cat litter.
Viral Campaign
Co-Winner: AMD - AMD Radeon HD 7990 eBay Stunt
An online auction offering a new graphics card—based on a PR strategy of selectively alerting certain stakeholders in-house—helped to fuel a total of 8.3 million media impressions for AMD.
Co-Winner: Channel Factory - Nestle Hot Pockets "Pocket Like It's Hot"
A video starring rap artist Snoop Dogg was the hook to get Nestle's audience of young adults males more interested in the company's Hot Pockets Brand, resulting in a 257% increase in YouTube channel subscribers.
WOW! Campaign
Winner: Quaker & Huge - Cap'n Crunch Earns His PR Stripes With Viral Uniform Controversy
The Cap'n Crunch brand, with the help of agency Huge, was able to capitalize on a Reddit item saying Cap'n Crunch was not a real captain, using the online "controversy" to boost the brand's online presence and garner international media coverage.
Digital PR Team of the Year
Co-Winner: Cisco Systems - Cisco Systems Leads Innovation in Digital PR
Cisco Systems' digital team combines innovation with with an initiative to reach and connect with a broader audience, and position Cisco as a thought leader in the digital space. The team monitors all corporate social networking communities across multiple social media platforms, producing and syndicating viral content, and owning all activities related to the company's social newsroom, The Network.
Co-Winner: MWW
MWW doubled down on its digital practice to provide clients with the full spectrum of digital services, including mobile and social media. The ultimate testament to the digital team's success: 40% of MWW's clients have been with the firm for more than five years.
Digital Communicator of the Year
Winner: Richard Licata, EVP, Communications, NBC Entertainment
NBC Entertainment's Richard Licata continues to push the envelope with his work with the Emmy campaigns by focusing on the digital layer—overhauling the NBC Awards Screening Room microsite with a new responsive design and creating an industry-first innovation with sponsored Facebook ads targeted specifically to Emmy voters.