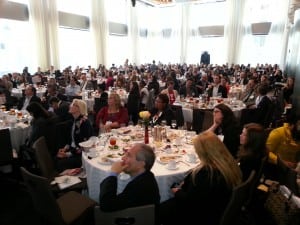 More than 300 communications professionals packed the Manhattan Ballroom in New York's Grand Hyatt on Oct. 15, 2013 to celebrate the winners and honorable mentions of PR News' Platinum PR Awards. The annual awards program, which benchmark excellence in PR campaigns by agencies and and brands, also included a special ceremony honoring the 2013 Top Places to Work in PR.
Among the winners were Deveney Communication, for Small PR Firm of the Year; Finn Partners, for Midsize PR Firm of the Year; and GolinHarris, for Large PR Firm of the Year. The winner of the Wow! Award, for innovation and creativity, was Marina Maher Communications, for "Depend and the Great American Try On: Repositioning Incontinence from the Bathroom to the Forefront of Pop Culture."
Throughout the day, honorees struck a common theme of the benefits of listening, collaboration and putting talents to work for the common good. "Our FedEx communication team members love to provide service," said Pam Roberson, communications advisor, diversity/global citizenship group at FedEx, which won the Platinum PR Award in the Anniversary Campaign category.  "[We were] trying to reach 40,000 hours of volunteer service across our corporation to commemorate the 40th anniversary, and employees went above and beyond like they always do. They love to volunteer, provide community service and help others."
2013 Platinum PR Award Winners
(see all winners and honorable mentions)
Anniversary Campaign
Bacardi Limited - Celebrating 150 Years of Bringing People Together
Bacardi celebrated its rich, 150-year history by working with Global Corporate Communications to establish a popular "anniversary hub"—featuring anniversary-related activities, materials and information— that within six months had seen 60% of the beverage brand's employees pay a visit.
FedEx: 40 Years of Delivering a Better Future
FedEx went all out to celebrate its 40th anniversary by developing a successful multi-faceted/multi-platform campaign—which included promoting its culture and pride among employees—and grabbed the attention of the public in the process, resulting in over 10,000 pageviews of 40th anniversary content on About.FedEx.com.
 Annual Report
Perry Ellis International
Fresh and colorful and bursting with style, the Perry Ellis International Annual Report brings a touch of flash and fashion to the potentially yawn-inducing world of financial reports.
Blog
Blue Cross Blue Shield of Michigan  - "An Apple a Day" in a Digital World : Michigan Blues Build Healthy Relationships with Consumers Through AHealthierMichigan.org
Blue Cross Blue Shield Michigan launched AHealthierMichigan.org, a health and wellness blog that, along with its corresponding social channels, garnered more than half a million page views in 2012 and reached on average of 1,650 Michigan consumers each day.
Branding 
Hanna Lee Communications - The World's Most Talked About and Most Profitable Bar Opening:  The Dead Rabbit, a 'Gangs of New York' Style Cocktail Saloon
Powered by Hanna Lee Communications' successful branding campaign that positioned it as a mid-19th century cocktail saloon, The Dead Rabbit's opening was the most talked about in recent history, with 298 million media impressions generated in 149 media outlets during a six-month period.
 Cause-Related Marketing
Taylor on behalf of Allstate - Allstate's Once is Never Enough Program (a.k.a. the O.N.E. Program)
In an effort to help standardize warning signs for motorcycle safety and help reduce the number of motorcycle crashes at intersections involving other vehicles, Allstate and partner Taylor launched the "Once is Never Enough" awareness campaign to encourage people to look twice for motorcycles at intersections.
Community Relations
TTNET - Life's Simpler with Internet
In order to educate the digital illiterate in its country, Turkish Internet service provider TTNET sent a truck—equipped with current technologies and trainers—around Turkey to enlighten its fellow citizens on the technology of the digital age and has so far given training and certificates to over 2,000 people.
Crisis Management
LIVESTRONG Foundation  - From the Crisis Trenches: Blazing a New Trail in Communications
Keeping a steady focus on its good deeds and the people it serves, statements issued by the LIVESTRONG Foundation the week of January 14, 2013—the week Lance Armstrong made his doping confession to Oprah Winfrey—saw a record number of media impressions, averaging nearly 7 million per announcement.
 Employee Relations
Financial Times Digital Learning Week 2012
The Financial Times' Digital Learning Week 2012—which featured speakers, presentations and panel discussions about all things digital—received positive feedback from employees, as 73% said attending had expanded their personal knowledge of digital.
 Event Marketing
Edelman - Schick Hydro Wakes Up Shave Zombies and Boosts Brand Sales
At the 2012 International Consumer Electronic Show, Edelman and Schick set up a full-scale barber shop to draw attention to the Schick Hydro Power Select, resulting in a sales lift for the brand.
External Publication
American Institute of Certified Public Accountants – ThisWayToCPA Wisdom Books: The Future CPA's Guide to Life and Awesomeness and The Future CPA's Guide to Work and World Domination
In an effort to inform and engage those who are considering a career as a Certified Public Accountant, the American Institute of Certified Public Accountants created two mini-books to guide them along their path: The Future CPA's Guide to Life and Awesomeness and its companion volume, The Future CPA's Guide to Work and World Domination.
Facebook Campaign
Cooney/Waters Group - Parkinson's More than Motion
In an effort to educate people about Parkinson's other recognizable physical symptoms—beyond tremors and stiffness—Cooney/Waters Group Inc. and UCB developed the "Parkinson's More than Motion" campaign, which informs people via a Facebook page that includes videos, news and other resources; in a one-year period, the page amassed more than 43,000 likes.
Financial/Investor Relations
Qorvis Communications - Turning the Channel to Al Jazeera America
To get ahead of and prevent negative publicity, Qorvis Communications did a masterful job of emphasizing that the acquisition of Current TV by Al Jazeera was a business decision and kept the focus on the financial and business aspects of the deal.
Global PR
Rotary International - End Polio Now
Rotary International's "End Polio Now" campaign has put a bright spotlight on polio eradication efforts; media response to Rotary International outreach is at an all-time high with leading global publications frequently covering the organization's role in eradication efforts.
Green PR
Porter Novelli - HP Environmental Leadership Campaign
Thanks to the continued growth of its Environmental Leadership Campaign, HP's recycling programs have grown to new, unprecedented levels of success; to date, HP has recycled nearly half a billion HP ink and LaserJet toner cartridges.
Influencer Communications
Lockheed Martin Corporation - Medium Extended Air Defense System (MEADS) FY13 Keep Sold Campaign
Through its successful Medium Extended Air Defense System Fiscal Year 2013 Keep Sold Campaign, Lockheed Martin was able to get $380 million restored to fund MEADS in the defense budget passed by Congress this year—and achieving Lockheed's overall goal of continuing funding for the program.
Internal Publication
Diageo LAC – Our Passion
DIAGEO LAC's monthly employee newsletter Our Passion—which is published in English, Spanish and Portuguese and has had a readership average as high as 84%— brings together the company's more than 3,000 employees in Latin America and the Caribbean.
Marketing Communications
The Asian Art Museum - Operation: Lost Warrior
Seeking to generate buzz for a blockbuster exhibition centering on China's Terracotta Warriors, San Francisco's Asian Art Museum developed an integrated PR and marketing campaign that helped set a new record for opening weekend attendance and drew 153,763 visitors to the museum.
Media Event
Singer Associates Public Affairs/Public Relations - The $70 million press conference
Following the largest natural gas disaster in U.S. history, Singer Associates was brought in by the city of San Bruno, Calif., to develop strategy and communications that ultimately brought utility PG&E back to the table and led to the "$70 million press conference"—the announcement that $70 million in restitution had been agreed to for the grievances suffered by this small city.
 Media Relations
Pepco Holdings – A Change of Direction
Utility Pepco Holdings successfully repaired its battered image via an integrated communications plan that included a focus on improving media relations, which led to the company embedding 13 reporters across Pepco Holdings during Hurricane Sandy—a gamble that paid off with positive press.
Multicultural Campaign
Weber Shandwick - Pepsi Next: Wheel of Levy
To make consumers more aware of the zero calorie—but still very flavorful—Pepsi NEXT, Weber Shandwick enlisted crossover actor William Levy, who could speak to consumers in English and Spanish and built a custom program at www.wheeloflevy.com leveraging his comedic appeal (entitled "Wheel of Levy") and offering free Pepsi NEXT.
Wells Fargo and George Lucas' Red Tails: Turning a Corporate Sponsorship into an Integrated Marketing and Communications Campaign
Wells Fargo and George Lucas' Red Tails teamed up to promote the historical film—which netted $19.1 million in its first three days—as well as to celebrate the achievements of the Tuskegee Airmen while highlighting their connection to Wells Fargo history.
Online Communication + SEM/SEO Initiatives
JPA Health Communications – The Melanoma Research Foundation
The Melanoma Research Foundation and JPA saw a need to reach more patients, healthcare professionals and people at risk of developing melanoma and set out to do so by expanding its SEO campaign, which resulted in 1 million visits to its website directly from organic Web searches, a 145% increase, from the previous 15 months.
Weber Shandwick - General Motors Revival: GM Dealers Take Comeback Story To The Streets
As part of "General Motors Revival: GM Dealers Take Comeback Story to the Streets," GM and Weber Shandwick launched "PR Showroom: Public Relations for GM Dealers," a first-of-its-kind online toolkit that provided dealers the resources to conduct their own hyperlocal media relations.
 Online Press Room/Media Center
Prudential Financial - Prudential Newsroom
Prudential wanted its online newsroom to become an even more valuable media resource, and developed a wide range of content for the site—including opinion pieces, a mobile app and larger social media presence— that have promoted higher engagement and a 33% increase in visitors.
PR on a Shoestring
NAMI - You Are Not Alone
With its "You Are Not Alone" campaign, NAMI—with a budget of zero dollars— encouraged individuals living with mental illness and families/friends affected by mental illness to share their stories via video or the written word on a hub at NAMI.org.
RF|Binder Partners - Band Aid Brand transforming Healing Moments into Moments of Virtual Fun
In order to make getting a "boo-boo" a much more pleasant experience, Band Aid and RF|Binder launched the Band Aid Brand Magic Vision App featuring Disney's The Muppets; the mobile application provides parents with an unprecedented ability to entertain their kids during the traumatic moment of getting a cut or scrape.
Press Release
Singer Associates Public Affairs/Public Relations - The $70 Million Press Conference
Singer Associates helped bring PG&E back to the negotiating table after a natural gas disaster and provide $70 million in restitution for the grievances suffered by San Bruno; following the announcement of a deal, Singer sent out a press release that was picked up by a bevy of big name news organizations.
Pro Bono Campaign
Cone Communications - Northwestern Mutual's Childhood Cancer Program: Help for Today, Hope for Tomorrow
Northwestern Mutual's Childhood Cancer Program is the company's first multi-year philanthropic program to accelerate the search for a cure for childhood cancer and to provide support to families facing the daily struggles of the disease; so far, the company has donated $1.1 million to national nonprofit partners, which has funded 6,800+ hours of childhood cancer research.
Product Launch
Macy's Brings "Yes, Virginia The Musical" to Schools Nationwide
When you think Macy's and product launch, an animated musical probably isn't the first thing that comes to mind. But that was exactly what the company rolled out as part of its fifth annual Believe campaign, in which 100 eligible schools were awarded $1,000 dollar grants to help fund their own production of "Yes, Virginia The Musical."
Waggener Edstrom Worldwide  - The New Office: Launching a Subscription for All
Generating excitement around a new product is hard enough, but it can be even harder creating buzz for an update on an existing product that many are familiar with, but without advertising Waggener Edstrom's PR efforts helped drive 3.5 million Microsoft Office 365 Home Premium trial sign-ups.
PSA
Bristol-Myers Squibb with Ogilvy Public Relations - Men and Melanoma: The Unexposed Target
Ogilvy and Bristol-Myers Squibb's Men and Melanoma: The Unexposed Target PSA took an all-in approach through recruiting influential spokespeople from the NFL, launching grassroots screening programs, rolling out a comprehensive website and leveraging social media to drive conversations about melanoma.
 Public Affairs
Be The Match with PadillaCRT - Inspiring Congressional Support of a Life-Saving Cause
On behalf of Be The Match, which manages a registry of marrow donors, PadillaCRT secured 30 face-to-face meetings with key legislators and donor registration more than doubled compared to the previous year.
Rebranding and Repositioning
Allison+Partners - From Startup to Mainstream: Dropbox for Everyone
The problem with buzzwords is that sometimes people use them without thinking about what they actually mean or how they can be applied. "Cloud" is one of those buzzwords, or at least that was Allison+Partners' thinking when they set out to position Dropbox as a product for everyone.
Research & Measurement
MasterCard - The MasterCard Conversation Suite
Since launching its Conversation Suite listening tool, MasterCard has increased online engagement by 400%, and created more than half a million social media conversations that reached upwards of 1.3 billion people.
Satellite Media Tours
American Red Cross - Twister Coming ? There's an App for That: The American Red Cross Launches Tornado App with National Satellite Media Tour
Tornadoes touch down suddenly and all at once, and while people can prepare in advance and learn what to do before, during and after a tornado strike, they often don't think about this until there is a need to react. The American Cross sought to fix that with its Tornado app, which it got into the hands of at-risk populations in part through an excellent satellite media tour.
Social Media Campaign
Hampton Hotels - Hamptonality Moments
Hampton Hotels wanted to discover ways to raise awareness of its distinctive personality and culture. It identified the perfect vehicle in a video series, "Hamptonality Moments," which featured real stories from real hotel guests.
Speeches
Ogilvy Public Relations - We-Vibe: Sexual Health Headlines the Consumer Electronics Show for the First Time
Ogilvy PR crafted a culturally relevant pitch of "Why We-Vibe?" for client Standard Innovation. Not only did the speech mark the first time a vibrator manufacturer was accepted to speak at CES, it garnered huge amounts of media attention and led to a spike in the client's business.
Trade Show/Event PR
AMD Technograffiti at SXSWi 2013
At South by Southwest Interactive 2013, AMD hosted its own showcase, AMD Technograffiti, a digital underground event aimed at press, social media influencers, gaming enthusiasts, channel customers and AMD employees. Media coverage resulted in a total of 30.8 million reader impressions, international pickup and 13.5 million social impressions.
Twitter Campaign
Weber Shandwick for Unilever N. America – CLEAR Scalp & Hair Beauty Therapy
To promote Clear Scalp & Hair Beauty Therapy, Weber Shandwick developed a social platform and hashtag, #BestNightEver, to reflect the brand's relevance amongst the target's broader lifestyle mindset and creating a connection between hair care and nightlife.
Video Program
Marina Maher Communications  - P&G builds consumer loyalty during the London 2012 Olympics by thanking moms everywhere for doing the hardest and best job in the world
Marina Maher Communications and Procter & Gamble launched a campaign that recognized moms and the difficult work they do. The "Thank You Mom" campaign leveraged video to create emotionally compelling content that celebrated mothers while bolstering brand favorability for P&G.
Website Marketing
Hilton Hotels & Resorts – Vacationitis
To help convert business travelers into leisure guests Hilton Hotels created Vacationitis, an interactive website featuring personal diagnoses of vacation needs and customized prescriptions urging people to take breaks.
Word of Mouth/Viral Campaign
Stratasys Asks the World "What's Possible?" with 3D Printing
To better position itself in the marketplace, Stratasys created a Facebook page showcasing the company's 3D printing technology, resulting in a 250% increase in Facebook fans and a 200% boost in website traffic.
Wow! Award
Marina Maher Communications - Depend and the Great American Try On: Repositioning Incontinence from the Bathroom to the Forefront of Pop Culture
To help change the brand perception of Depend, Marina Maher Communications recruited celebrities who didn't really need an incontinence protection product, resulting in a significant spike in both market share and product trials.
Small Firm of the Year
Deveney Communication
Deveney Communication's Super Fit Firm model uses its corps of PR executives to bring in expertise in specific practices and leverages partnerships for when Deveney's clients need expanded services.
Midsize Firm of the Year
Finn Partners
Since launching in late 2011 Finn Partners has racked up a diverse stable of clients, facilitated by several programs designed to promote employee satisfaction.
Large Firm of the Year
GolinHarris
Historically known for its consumer marketing expertise, GolinHarris continues to beef up its integrated marketing platforms and add new skill sets and more media specialists.
2013 PLATINUM HALL OF FAME INDUCTEES
Discovery Communications – Discover Your Impact Day
Fighting the elements in many cases, more than 4,000 Discovery employees set out to give back to their communities each Discover Your Impact Day—and along the way set the cable programmer apart from its competition as a brand that perpetually sees the world beyond the electronic entertainment grid.
Domino's – Pizza Turnaround
Nearly five years ago, Domino's CEO Patrick Doyle became the company's chief public spokesperson and got other employees got involved in a campaign that said, simply: Domino's hears its customers complaints about its chief product, pizza. With Doyle leading the way, Domino's came up with a new recipe, changing perceptions of the brand and the product.
Frito-Lay – Doritos Crash the Super Bowl
For the seventh annual Doritos Crash the Super Bowl, Doritos moved the campaign to Facebook, getting nearly 100 million views for the five finalist videos. The Doritos brand is now closely identified to the biggest sporting event in the U.S., and stands as an example of a lasting campaign in which PR and advertising are inextricably linked.
Keep America Beautiful
Long before being "green" was fashionable, the Keep America Beautiful movement was formed in 1953 when a group of corporate and civic leaders met in New York City to discuss a revolutionary idea—bringing the public and private sectors together to develop and promote a national cleanliness ethic.
Macy's Thanksgiving Day Parade
Through good times and bad in the retail sector, Macy's Thanksgiving Day Parade is nothing if not a massive, live PR event that perfectly ties together family togetherness, national unity, the holiday spirit and positive brand awareness.
Old Spice – "Smell Like a Man, Man"
The Old Spice Guy videos may be the greatest-ever viral video campaign produced by a brand. Yes, there were standard TV commercials, but it has been the online videos that were created to support the TV advertising campaign that made the difference in the era of two-way communication between brand and audience.
Time Warner Cable – Connect a Million Minds
Connect a Million Minds, Time Warner Cable's $100 million commitment to inspire young people to pursue education and careers in science, technology, engineering and math, has done more than inspire 870,000 people to pledge time to connect kids with STEM. It has been the focus of nearly all of the cable operator's social responsibility efforts, so much so that the corporate brand and Connect a Million Minds are nearly inseparable.