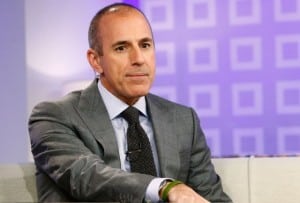 Who knows what tomorrow will bring for the "Today" show co-host Matt Lauer? But, from a PR perspective, the chum may already be in the water for the beleaguered broadcast journalist.
Lauer, who has been co-host of "Today" since 1996, was for years the golden child of the network morning shows, as "Today" routinely beat ABC's "Good Morning America," and CBS' morning show in the morning show ratings race.
That all changed last summer when then-"Today" co-host Ann Curry got sacked and Lauer was widely blamed for her departure. In the immediate aftermath, Lauer failed to follow PR 101, in terms of getting out in front of the story—and quickly.
Instead, he waited months before agreeing to an interview in March with media reporter Howard Kurtz (The Daily Beast, Newsweek). In the interview Lauer said he tried to warn NBC execs about letting Curry go.
"I don't think the show and the network handled the transition well," Lauer told Kurtz. "You don't have to be Einstein to know that. It clearly did not help us. We were seen as a family, and we didn't handle a family matter well."
The suits at Comcast, which owns NBC, must have been thrilled with that comment. However, despite Lauer's efforts to cauterize the wound, the damage has been done.
(In February NBC finished in 5th place among the morning shows, behind all three of the other major TV networks and Spanish-language network Univision, according to The Daily Banter.)
This week brought a cover story in New York magazine that portrayed Lauer in less-than-flattering light. And Deadline Hollywood reported that NBC approached CNN host Anderson Cooper to replace Lauer before his contract expires in 2014.
Now comes the latest indignity for Lauer: A report from FTVLive regarding the apology Lauer tweeted to his former intern.
According to the report, local Fox reporter Mark Zinni retweeted a follower who quoted him as saying that Lauer was "not so nice" when Zinni was an intern at the "Today" show in 1997.
Lauer then tweeted this response, essentially stating that he was sorry that Zinni felt that way and he "always tried to be nice."
The Lauer episode may well end in death by a thousand cuts. FTVLive on Thursday reported that Lauer is ready to step aside. We'll see.
Is Lauer toast? And, as the "Today" debacle worsened, did he break a cardinal rule of PR by letting the media define him?
Follow Matthew Schwartz: @mpsjourno1