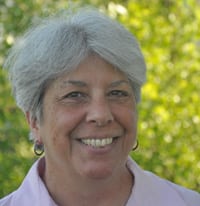 I don't know how many of you caught the recent finale of the popular television show Parks and Recreation, but if you did there is a chance that you saw the National Parks Conservation Association's (NPCA) logo if your eyes were wide open at the right moments.
The show's season 6 finale found Pawnee city official Leslie Knope (Amy Poehler) making the tough decision to elevate her career to the federal level by joining the National Park Service.  Between the episode's appearances by First Lady Michelle Obama, musicians Wilco and Ginuwine and an episode-ending cameo by Mad Men's Jon Hamm, there was a lot of star power mixed in with the laughs. For NPCA, however, the special guest appearance causing the most excitement – and opportunity - was the inclusion of our logo on the popular show.
We had the good fortune of becoming involved with the show thanks to an introduction by one of our former board members. The show's executive producer, looking for some insights in working with the National Park Service, asked whether NPCA would be willing to lend its name to a national parks themed conference in the season finale. While Parks and Recreation is a fictitious show, it uses real-life scenarios that local – as well as national – parks face, including government shutdowns, ever-tightening budgets, and parks conferences.
During my 23 years of working with NPCA, saying "yes!" to the show's request for our involvement was one of the easiest decisions I've made. We shared high resolution versions of our logo, as well as NPCA-branded hats, mugs, and other gifts to sweeten the partnership. And, of course, if Leslie appeared wearing one of those hats and drinking coffee from one of those mugs, all the better!
Fast forward to the spring…one week before the episode aired, we had a teleconference with the show's producers and PR team to talk about ways we could promote the finale, which, as luck would have it, was airing during National Park Week – a weeklong celebration of everything our national parks have to offer.
Unfortunately, our euphoria was tempered by reality when we received news that much of the conference content, including scenes featuring NPCA's logo, would be left on the cutting room floor. Vowing to make lemonade from lemons, we plowed ahead with an integrated communications strategy that relied heavily on social media.
The finale provided excellent opportunities to promote National Park Week and further connect with our members and supporters. Through our relationship with the show's production team, we received access to photos from the finale, video clips, and the show's logo, to complement our outreach. We drafted and distributed an email message to more than 350,000 supporters. The message focused on the top ways to celebrate National Park Week–mostly with great outdoors activities, but the lead item suggested tuning in to the finale and watching for a glimpse of our logo and to see whether Leslie accepted a national park gig. Leading up to the episode, we shared links to the e-mail message and crafted other Twitter-friendly promotional messages – some of which were retweeted by the Parks and Recreation team, aligning our organization with the show's more than 324,000 followers.
When the final episode aired, NPCA's social media team live-tweeted, using the Parks and Recreation's hashtag and taking advantage of promoted tweets to share messages about connecting with NPCA following the show to support our parks in "real life". Cheers were seen on Twitter, as fans of the show and NPCA participated in an "Eye Spy" style game of looking for our logo and sending screenshot photos when they found it. Other Twitter users reacted and were thrilled with our use of promoted tweets to insert real national park issues into the buzz around the finale.
The following morning, we issued a press release on our blog, Facebook, and Twitter, congratulating Leslie for accepting the post with the National Park Service. We also took advantage of the innovative and free Piktochart tool to create a faux newspaper article to share the news.
Through a relatively small investment in promoted tweets, NPCA generated more than 5 million potential impressions leading up to and immediately following the episode's airing. Utilizing Twitter's lead generation cards and promoted tweets, more than 100 new supporters shared their email address with our organization over the course of five hours and we added our second-most Twitter followers ever during that week. Our Twitter success during the finale was second only to our outreach during last fall's government shutdown, where we kept in near-constant communication with supporters around the forced closure of our 401 national park sites.
The main takeaway from making the most of our 5-seconds of Parks and Recreation fame was to never underestimate the power of being nimble. By rolling with the changes and taking advantage of social media tools, we connected with new audiences, aligned our work with a nationally acclaimed television show and, with any luck, found ourselves at the beginning of a beautiful new friendship with our friends in Pawnee, Indiana.
Linda Rancourt is Vice President of Communications for the National Parks Conservation Association. www.npca.org. Follow NPCA: @NPCA