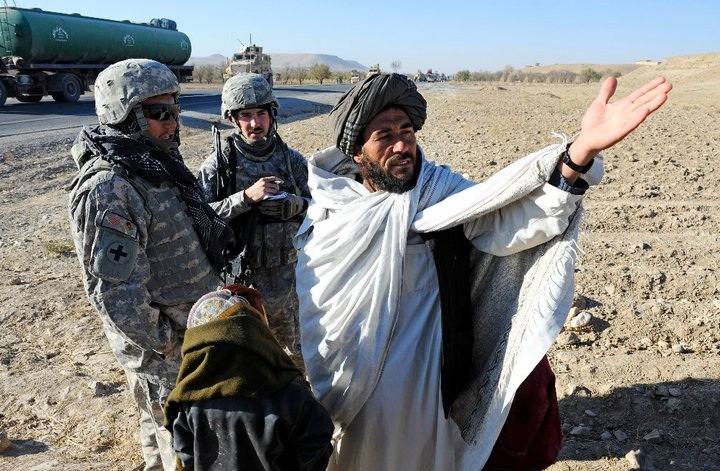 Air Force information operations officer Ray Gobberg (center) at work in Afghanistan's Zabul province.
Air Force First Lieutenant Raymond Gobberg is in Afghanistan as an information operations officer on a Provincial Reconstruction Team (PRT). He works in Zabul province, a rugged area in southern Afghanistan where there is rarely electricity and one paved road. His mission is to mentor Afghan government communicators—spokespeople, line directors, media pros and other government officials—and connect them with the people of Zabul province.
While serving overseas, Gobberg is earning a master's degree in strategic public relations at George Washington University's Graduate School of Political Management via the department's distance learning program.
In Part 1 of our Q&A with Gobberg, he talked about what it's like to be a communicator in a war zone, and how he is persuading the Afghan people to trust their government. In Part 2, he reveals his biggest challenges and successes in Afghanistan, what it's like to work with the Afghan government, how he copes with the realities of poverty and war on a daily basis and his plans for the future.
PR News: In terms of your work there, what has been your most satisfying accomplishment so far?

Gobberg: Thus far it's been my ability to energize my Afghan government counterparts to recognize the importance of radio communication, reinvigorate traditional mediums of communication respected by the people and commit to planning in advance of larger events to capture greater results. These are not really my accomplishments, but the accomplishments of my brave friends in the Afghan government.
Success in Afghanistan is judged by sustainability. If a practice fades once it is transitioned to the Afghan government, it most likely was not an Afghan-led initiative in the first place. We must listen and guide, not overpower and force our will. That is the guiding principle of our PRT's operations.
PR News: What are the most frustrating aspects of the work?

Gobberg: In Zabul, we are making key strides in both transition of security to the Afghan National Security Forces and development of legitimate and transparent governance into Zabul's outlying districts. The frustrating fact is the pace at which people understand this to be occurring. My impression is that progress in security and governance in Afghanistan is not exactly happening at the pace American citizens and media expect.
Part of the challenge is related to our insatiable desire for constant change, immediate progress and positive results. In no way am I suggesting that our presence in Afghanistan has been short. In fact, it has been the longest conflict in American history. But it is my opinion that until recently we lacked a depth of understanding of how to achieve our strategic objectives while facing resource and time constraints back home.
My assessment is that in the past, many thought that throwing more money and troops at the conflict would somehow resolve it in a more expedient fashion—I disagree. Our way ahead needs to focus on strategically placed civilian and military teams working on sustainable practices with their Afghan counterparts. The key word is sustainable, from an Afghan perspective.

PR News: How do you cope with the poverty and realities of war and at the same time do the job?

Gobberg: It is almost impossible to understand without actually encountering it firsthand. Your first instinct is to directly intervene and help in any way that you can—hand them food, water, clothes or organize missions to deliver humanitarian assistance. While this might make a soldier feel good inside, the second- and third-order effects of such actions can actually be counterproductive to accomplishing the mission of the PRT. I believe that these actions breed dependence on ISAF (International Security Assistance Force) instead of the Afghan government, and can ultimately work against our goals of facilitating competent governance.
Our unit is not here to deliver humanitarian assistance to the Afghan people; brave and experienced NGOs like UNICEF and World Food Programme perform that job. We are here to guide competent Afghan governance toward establishing credible governing practices, transitioning sole responsibility for security and development to Afghans as goals are met. Our commander told us at training that we must harden our hearts; he was right. I cope with the poverty and realities of war by focusing on the mission and how our daily actions can improve the lives of those we see and future generations in Afghanistan, America and the free world. 


PR News: We've all heard stories about corruption in the Afghan government. What has been your experience in working with government officials?
Ray Gobberg: Corruption is a root cause of instability and distrust in the Afghan government; this applies to all levels of Afghan government, national, regional and local. This is not a groundbreaking assessment. It has been well-documented that graft infects the majority of interactions between the state and its citizenry. From the highest levels, money is viewed as a weapon system—a powerful system that can wield egregious second- and third-order effects if not implemented with care, caution and proper oversight.
That said, at the tactical level we employ numerous measures to guard against contract corruption, the employment of individuals involved in active or passive support of the insurgency and graft of government officials. At PRT Zabul, we have been successful in minimizing the excessive levels of corruption that undermine legitimate governance. However, it still exists. At the provincial level, our expenditures are relatively small and therefore easier to track and manage, vis-à-vis money flowing in at the highest levels of government.
The challenge is getting all parties involved in local governance to adopt an ideology of public service, rather than self-preservation and survival. This is inherently difficult when faced with the fact that Afghanistan has been mired in civil, social and political unrest for generations.
Gobberg: How well is the George Washington University distance learning program working for you?
Gobberg: To date I've completed four of the 11 classes and look to complete my degree within the next year. This distance program is perfect for me, since all I need is a solid Internet connection, textbooks and time—all three of which I can get in southern Afghanistan. Communication with the professors has been phenomenal. They are always ready to receive and send communication, regardless of the time zone difference. We frequently trade e-mails and each professor hosts a weekly chat that allows me to catch up in real time. By the time I re-deploy back to the U.S., I will have completed two six-week courses focused on PR strategy, planning, writing, measurement and analysis.
Most importantly, each class has challenged me to approach my job in Afghanistan from a unique angle. Bringing academic theory to practical application has helped cement best PR practices in my mind.
PR News: What communications lessons learned in Afghanistan will you take back with you to the U.S.?
Gobberg: Effective business practices begin with a friendship and with trust. I think that in the West we get caught up in the 24/7 aspect of work, meetings, reports, etc., and many times we fail to establish the personal relationships that serve as the foundation to future business and productive partnerships. After months of meeting with Afghans, I have placed a new importance on relationship building as the conduit to progress. Transactional relationships are counterproductive.
Trust is paramount, especially in a country that has been ravaged by decades of war and chaos. Without trust, there is nothing, but with it, much is possible.
PR News: What do you want to be doing five years from now?

Gobberg: My active-duty commitment is up in May of 2012 and I intend to transition to an officer in the USAF Reserves, so I can pursue other personal and professional goals while continuing to serve.
In addition to the Reserves, I look to return to the digital marketing company that I helped co-found in 2006, OffCampusMedia.com. We help companies effectively reach the college student demographic by leveraging digital, social and hyperlocal marketing through a campus ambassador network reaching over 70 U.S. campuses. I also have an interest in continuing my education in the field of law or policy, with the ultimate goal of entering civil service.
For more information on Zabul province, go to the PRT's Facebook fan page.

Note: The attitudes and opinions expressed in this article do not in any way represent the official policy of any USAF, Army, ISAF or Coalition entity. These are First Lieutenant Gobberg's thoughts alone and may not be construed to be any more than that.