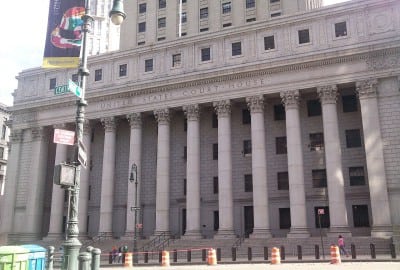 Several New York PR firms joined forces Tuesday to file suit in federal court against New York State's top ethics panel. The Joint Commission on Public Ethics (JCOPE) earlier this year adopted a rule that treats PR pros' efforts to influence content in editorials as lobbying. Under the new rule, PR firms would need to disclose such efforts. The lawsuit, led by BerlinRosen Public Affairs, argues that this is a violation of the First Amendment, and would in effect restrict freedom of the press as well as the free speech of PR pros.
JCOPE's rule states that the definition of "lobbying" could include a PR pro trying to place an editorial on behalf of a client, or otherwise attempting to deliver a client's message to a public official through a third party. If the rule were enforced, PR pros who engage in what JCOPE now considers lobbying would have to file a lobbying report for every conversation they have with an editorial writer, which entails listing the subject of the efforts, any legislation they are attempting to influence and any expenses involved.
In a statement, PRSA, which submitted an affidavit at the same time the lawsuit was filed, commended Gov. Andrew Cuomo's (D) attempts to curb corruption in Albany, but condemned JCOPE's opinion as "poorly worded" and confusing. PRSA said the new rule considers people lobbyists even though they have no actual contact with lawmakers and thus are not engaged in lobbying as it is currently understood. The Arthur W. Page Society and the PR Council also submitted separate third-party affidavits advocating that the court stay enforcement of JCOPE's rule.
The PRSA statement points out such a rule would cause PR pros to spend more time scrutinizing their work in order to avoid registration, and to raise their fees to deal with the reporting involved. This has the effect of limiting their free speech. Also at issue is freedom of the press: The media has agency over what they will cover and how they will cover it, and treating even potential coverage as lobbying will result in the media receiving less information.
The PR coalition has found an ally in the New York Civil Liberties Union, which supports the suit. Donna Lieberman, executive director, was quoted in The New York Times as saying, "It ought to be obvious that requiring someone to report every conversation with the editorial writer is intimidating to both journalists and advocates."
PR News' will report in more depth on this story in the March 14 issue of our premium publication.
Follow Ian James Wright on Twitter: @ianwright0101