As a PR professional, you might have had this fantasy: As the communications leader at a Fortune 500 company, you successfully steer it through a major crisis, earning the praise and attention of the company's CEO. "Come work with me," says the CEO. After gleefully telling your former boss, the CMO, that you'll be reporting directly to the chief executive, you and your PR staff board the corporate jet headed for Davos, where you'll be working closely with the CEO on event messaging, as well as determining the future course of the company.
Okay, perhaps that's pushing it a bit. Now for the reality: The majority of communicators do not report to their CEOs. Not so surprising, but we think it's significant that more than a third of PR professionals do report to their CEOs. According to the PR News Salary Survey report released in June 2012, 35.1% of the respondents report to their organization's leader. The rest are spread among communications, marketing and HR (see the accompanying chart).
This finding sparked PR News to look into the rarefied situation of PR pros who report directly to CEO. What we found is that while the relationship is multifaceted, deep trust is the overriding factor in making such an arrangement work.
Take it from someone very familiar with having the CEO's ear. Robert Hastings, SVP, communications and government affairs at Bell Helicopter, has such a relationship with Bell president and CEO John Garrison. To Hastings, trust is paramount. "The CEO either trusts you or he doesn't," says Hastings.
Another common trait of CEOs who work closely with PR pros is their understanding of the power of information. Communications is a leadership function and therefore should be employed by leadership, says Hastings. Thus, his CEO feels that PR belongs to him. "He uses it as a tool to help accomplish business objectives, both internally and externally," he says.
How do you best use this leadership tool? By putting PR right in the CEO's office, so there is no guessing to what is on the CEO's mind, says Hastings. "Sitting on the executive team, we never wrestle over who is the master," he says. "We all sit at the same table and make decisions as one body."
VOICE OF REASON
So we know two things that a CEO brings to the table in working closely with PR. What attributes should PR pros demonstrate in such a relationship? "You must be willing to say the tough things that need to be said," says Roy Vaughn, VP, corporate communications at BlueCross BlueShield of Tennessee. What that really means is making well-reasoned, logical decisions.
Often, CEOs encounter people with singular perspectives based on their functional role within an organization. That's why Vaughn says it's imperative that the communicator be "the voice of reason."
Vaughn, who has a dotted line report with his leadership, thinks of his PR role as a barometer: continually monitoring internal pressure vs. external pressure, then suggesting when course changes should be made.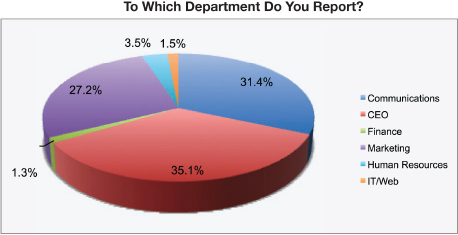 The 2012 PR News Salary Survey finds that more than a third of PR pros report to the CEO—a number that needs to go higher.
LEARN THE DYNAMICS
Another important attribute for PR pros is knowing the business side. Long talked about as a way to gain entrance into the C-suite, business acumen is essential, says Vaughn, "but you don't need to understand every nuance."
In fact, a study released in July 2012 by the Fournaise Marketing Group finds more than 70% of chief executives believe marketers/communicators are "disconnected" from business results and focus on the wrong areas. The study found that CEOs trust their CFOs and CIOs more than their marketing and communications executives.
This is why it's important to think like the CEO, says Hastings. Which means, think in terms of measurable results, which translates into accountability. That means awareness metrics are out. "We can look at behavior, but tying our efforts to business goals is key" says Hastings. "If our director of sales in Asia has an objective to sell 22 aircraft, my objective is to sell 22 aircraft."
DISASTROUS FORMULA
Essentially then, directly reporting to the big boss is a bit like walking a tightrope (see sidebar for tips on successful navigation). But it's a situation that Ned Barnett, president at Brand, wishes all PR execs would find themselves in. Barnett started his career as a spokesman for a university president. It was an extremely successful partnership, and since then as an agency owner Barnett has had one request of clients: he must have full access to the CEO. "Not having this access is a formula for disaster," says Barnett.
LEASH LAWS
Of course, there are other nuances involved in working closely with leadership. Bell Helicopter's Hastings has directly reported to leaders in three other jobs in his career, including acting assistant secretary of defense for public affairs for then-Secretary of Defense Robert Gates. He's had bosses that wielded a tight leash over their staffs to ones that held a very loose leash. Both ends of that spectrum can be dangerous, says Hastings. At Bell, he's more in the middle, never far from the center of what's going on within the company.
That appears to be the sweet spot for PR pros. PRN
[PR News' 2012 Salary Survey is available for download for all premium PR News subscribers at the Subscriber Resource Center. Non-subscribers can order copies at PR News' Online Store.]
CONTACT:
Robert Hastings, rhastings@bh.com; Roy Vaughn, roy_vaughn@bcbst.com; Ned Barnett, ned@barnettmarcom.com.

Follow Scott Van Camp: @svancamp01