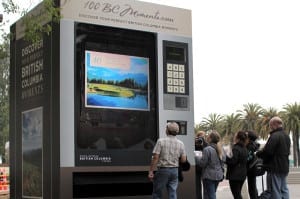 British Columbia, the westernmost of Canada's 10 provinces, is known for smoked salmon, aboriginal art and ice wine, not to mention gorgeous mountains and grizzly bears. The area has long been a hot spot for tourists throughout the world, but local tourism officials wanted to boost BC's appeal to consumers in two of their key markets.
So in 2012 Destination BC, the official tourism organization for BC, approached its PR agency, Citizen Relations, to come up with some creative concepts to raise awareness of BC as a travel destination in both summer and winter and highlight myriad activities that could be enjoyed in the province.
But Destination BC and Citizen Relations didn't want just a garden-variety media relations campaign. They wanted something unique that would impress consumers in targeted markets and get them kibitzing about BC.
At the time, Destination BC was planning to run advertising campaigns in both San Francisco and Toronto and wanted to supplement the ad buys with earned media both online and via social media.
Citizen Relations worked very closely with Destination BC's ad agency, DARE, throughout the year-long campaign (see sidebar).
The San Francisco and Toronto markets were chosen as the focus of the campaign after extensive research showing that both regions had the most potential to boost the number of overnight visitors to BC.
Both cities have multiple daily direct flights available, as well as many travelers whose demographic profile, in terms of interests and income, revealed that they would likely travel to BC. According to the research, San Franciscans were identified as likely summer visitors while consumers living in Toronto were identified as most likely to visit BC during the winter months so they could hit the slopes.
Specifically, the PR campaign focused on three main objectives:
• Inspire. Use the PR campaign to motivate consumers who reside near British Columbia (BC), particular those folks living in the Bay Area and Toronto, to visit the area.
• Connect. Help consumers connect to the Destination BC's website, to learn more about what BC has to offer as a travel destination.
• Capture. Capture consumer data via online and, with the individual's permission, follow up with content and information focusing on the specific areas that the individual has expressed interest.
TALK TO THE MACHINE
Rather than rely on giving away free trips to generate media coverage (and water down the value of the experience of visiting BC), the PR campaign opted to come up with an unusual way to invite people to the province.
But to grab the attention of Bay Area residents, the campaign needed something that would make people stop dead in their tracks.
The solution? BC Moments Machine, a 14-foot tall, 10-foot wide postcard vending machine themed to support Destination BC's summer advertising campaign.
In April 2012 the machine was powered up in Justin Herman Plaza, a busy area located in downtown San Francisco.
The contraption drew attention from passing pedestrians by divulging nine separate postcards, each representing one of the unique 100 BC travel moments that were being featured in the summer ad campaign, such as surfing in Tofino or wine tasting in Okanagan.
The machine prompted consumers to choose their favorite moment and then would dispense a copy of the postcard inviting them to visit BC, along with a flight discount and a souvenir related to their favorite choice.
For instance, if someone chose the "Surfing in Tofino" postcard, he might receive a beach towel, sun block or made-in-BC surfboard.
The souvenirs ranged from small mementos, such as golf balls, to elaborate prizes like full-sized kayaks, all of which were produced in BC.
What is more, the machine kept consumers and media reps on their toes by coming to life and going into slumber at random times during a three-day period, without anyone knowing what kind of souvenir would come out next.
"We didn't just want to be highly visible," said Carol Nelson, acting executive director of tourism marketing at Destination BC, referring to the BC Moments Machine.
She added: "We wanted to connect with consumers on an emotional level, that would break through the clutter, and give them a better sense of what people can do when visiting BC."
David Brodie, VP of Citizen Relations, added that the campaign chose not to do any pre-promotion in order to add to the element of surprise.
"You can imagine the impact of a 14-foot tall, 10-foot wide vending machine showing up on a San Francisco block," he said.
SOCIAL CHANNELS
To provide a little more juice for the campaign, online influencers focusing on travel were invited to check out and experience the machine. A video featuring first-day activities, revolving around the machine, was exclusively released on YouTube.
Destination BC kept the conversation going by prominently displaying a dedicated event hashtag (#100BCMoments) and sending it along with the video to travel and lifestyle bloggers and top-tier media outlets such as ABC, Fox and the San Francisco Chronicle.
The social marketing was augmented on site by BC ambassadors who engaged the crowd, telling people about BC attractions and distributing more than 15,000 postcards featuring flight discounts.
Building on the "Ski It To Believe It" ad campaign theme, the campaign then developed the Ski BC Challenge, which rolled out in October 2012.
The promo featured a head-to-head virtual ski experience that incorporated falling snow, wind, and a motion-controlled ski game, all encased in a glass-walled truck that wended its way through Toronto.
The campaign invited Torontonians to challenge a friend in a virtual ski race to see who could get to the bottom of the slope the fastest, with the winner of each race getting a complimentary one-day lift pass to any one of BC's 13 ski resorts.
Similar to the event in San Francisco, online influencers and media reps were invited to participate in the event.
They also got an opportunity to interview 2010 Olympic gold medal winner Ashleigh McIvor, who was the campaign spokesperson, about her experience enjoying BC's world-class ski slopes.
THE RESULTS
The PR efforts stoked solid returns. Perhaps most important, overnight travel from the U.S. to British Columbia experienced a 7.2% bump in the summer of 2012, compared with 2011.
Here are some of the other results from the campaign:
• More than 86 stories ran in such media outlets as ABC, CBS, CTV and NBC, reaching an audience of more than 43.6 million, which exceeded the campaign goals of 9.5 million media impressions.
• A reach of 971,000-plus impressions for the #skibc hashtag on Twitter and more than 300,000 impressions for the #100BCMoments hashtag.
• Directly engaged with 7,000-plus consumers in San Francisco and nearly 6,000 consumers in Toronto, which exceeded the campaign's combined target of 6,500.
Nelson stressed that the campaign's multipronged approach helped Destination BC to make a big splash with consumers.
"The online advertising is the heavy lifting," she said. "But the inspiration comes from PR, which is where you capture someone's heart, and then following up with content and information, which speaks to the head." PRN
3 Ways to Meld Your PR and Ad Campaigns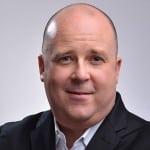 Too often brands end up with their ad agency, media buyers and PR team all working in separate silos or, even worse, fighting against each other to control the budget and creative concept behind a campaign. If you want to be an agency that brings big, ambitious ideas to life you need to find ways to make all marketing disciplines work together. One of the keys to our success with Destination BC has been the close relationship we have had with the organization's advertising partner, DARE, and media agency, Jungle Media.
Here are three key lessons we've learned to ensure that your advertising and PR efforts are closely aligned:
1. Bring the team together early. All of the best campaigns that we have been involved in started with a team that includes PR, advertising and media together in the same room, from the very first client brief. Usually, the lead agency (whether it's PR or advertising) tries to develop the creative concept in isolation and then brings together all the other disciplines to see how they can build on an idea. Having input from each discipline from the get-go helps shape the "Big Idea " and ensures that it can come tolife in both paid and earned media.
2. Let the ideas lead the budget. Clients often approach their annual communications planning with a set amount of their marketing dollars allocated to PR, advertising and media buying. Rather than allocate dollars to each discipline up front based on what you spent last year, give the entire team a planning and strategy budget and see how the ideas are originally generated.
3. The walls between earned media and owned media are crumbling. The most effective social media campaigns are often seeded with a targeted ad buy to get them going, what with editorial content increasingly being blended with advertising partnerships. By giving each group the chance to chime in on their respective plans, you'll ensure that your budget goes further and you maximize ROI for your brand.
This sidebar was written by David Brodie, VP of Citizen Relations. Follow him on Twitter, @BrodieDavid.
CONTACT:
David Brodie, david.brodie@citizenrelations.com.
Correction: In the print version of this article, the number of views on YouTube of a video tied to the PR campaign was incorrectly stated.  The video garnered more than 138,000 views.
This article originally appeared in the March 31, 2014 issue of PR News. Read more subscriber-only content by becoming a PR News subscriber today.