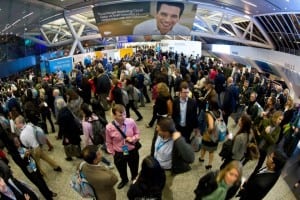 Live events and conferences are considered a main source of revenue for B2B media companies, as ad dollars once devoted to print publications have pretty much bottomed out. To make up for that lost revenue, many consumer media brands are getting into the events act, enlarging the aperture for PR pros looking to get some exposure for their company or top executives.
The latest to toss its hat into the ring: Vanity Fair. The glossy consumer-based magazine, which is published by Condé Nast, will host a conference in San Francisco later this fall, according to The New York Times.
The event, which will coincide with the monthly magazine's "New Establishment" list of influential people in early October, will feature Jonathan Ive, Apple's design chief, and Michael Bloomberg, the former Mayor of New York, among other heavyweights.
The proliferating number of live events and conferences is a function of the shift from print media to digital media. The more time we spend gazing into a computer screen, the more inclined we are to get out into the field and press the flesh.
As the Web upends traditional media products, legacy media brands, including Vanity Fair, The New York Times and The Wall Street Journal, have started to expand their events portfolio in order to develop new revenue streams.
By enhancing their event platforms, consumer media brands offer new opportunities for communicators who are trying to get their organization's chieftains and other senior executives in front of the right audiences.
For PR execs, live events and conferences may not adequately replace the number of reporters and editors who PR pros can pitch their stories.
But events and conferences have started to spread like wildfire, and it's incumbent upon communicators of all stripes to track down those events whose agendas may alight with their messages and put their top executives in a favorable light.
Follow Matthew Schwartz on Twitter: @mpsjourno1