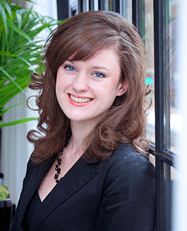 Whenever my mom needs a recipe for an upcoming meal or event, she consults her cabinet of cookbooks, recipe cards and loose clippings of recipes that she's collected over the years. She'll sort through old papers and scan cookbooks, searching for an old favorite or new inspiration. I may have inherited my mom's love of food, but not her cooking habits: Whenever I need a new dish idea, I simply consult Pinterest.
Pinterest not only allows me to compile all my old recipe favorites and new dish inspirations in one, paperless location, but it has also opened the door to discovering hundreds of creative food-focused bloggers, each with his or her (mostly her) own unique style and taste. One click on a Pin of well-photographed harvest salad leads me to discover an entirely new food blog filled with hundreds of more ideas, from healthy delights and savory dishes, to chocolate-y indulgences.
At Henson Consulting, one way we build buzz for our food-focused clients is by engaging spokespeople to amplify our message. Often these spokespeople are individuals with whom our audience can relate: real life foodies, busy moms and recipe-lovers, each with a personal space on the web and a loyal following.
With a publishing style and audience already in place, popular bloggers can be excellent brand advocates. Here are some reasons to consider using them on your next campaign or program:
They're influential – Established bloggers have built up a loyal following on their blog and social media channels. Their community is engaged in what they're talking about and are more likely to turn to blogs than other social media networks to make a purchase decision, get product information, seek advice and find out about new products.

They give personal insight – A blogger can provide a specific perspective on a product or service, giving valuable information and offering a real face that consumers can trust. When you engage a blogger in representing your brand, it should be because they have used your product or they are passionate about your brand. This way, their advocacy feels natural and authentic.

They take great photos – As images are increasingly important in digital media, many bloggers are particularly skilled in shooting great photos of how their recipes comes to life. If you want your consumers to eat with their eyes, bloggers are a great resource for showcasing recipes.

They're accessible – Use conference opportunities such as BlissDom or BlogHer to do some face-to-face networking and relationship building with bloggers. Once starting the relationship there, you can begin learning more about their passion and blog niche, then hone in on the bloggers who are interested in being a mouthpiece for your brand.
So whether you're searching for tonight's dinner inspiration or for a trustworthy brand advocate, look to Pinterest "Food & Drink" boards (or Google search) to discover more food blogs and recipes than you can ever imagine – and potentially your next spokesperson!
Victoria Gestner handles several of Henson Consulting's food-related accounts, including Kraft's Philadelphia Cream Cheese, Kraft's Philadelphia Snack Delights, Land O'Frost lunchmeat and The Pampered Chef. She also supports AMLI Residential. Victoria can be reached at victoria@HensonConsulting.com.