As consumer packaged goods companies (CPG) go, so go the rest of consumer-oriented brands. Agree? Then you should take a shot at using Instagram for your business communications.
▶ Instagram Going Gangbusters for CPG Companies: Instagram, the photo-sharing service that Facebook acquired back in 2012 for a $1 billion, celebrated its fourth birthday last week. And CPG companies, which have wholeheartedly embraced the social channel, may be handing out the noisemakers. Indeed, CPG companies have seen a 763 percent year-over-year growth in engagement on Instagram, according to an exclusive study conducted by social media research company Shareablee. But the app may hold promise for many other business sectors. "While we continue to see growth across social media platforms as a whole, with engagement rising 124% across platforms since 2013, Instagram in particular is showing a marked rise, driving 35% of the increase in engagement," said Tania Yuki, founder and CEO of Shareablee. She added: "Only about 30% of all socially active brands have an Instagram profile, so now is the time for public relations professionals to work with clients on strategies to incorporate the platform into communications strategies and capitalize on this lift early for maximum return."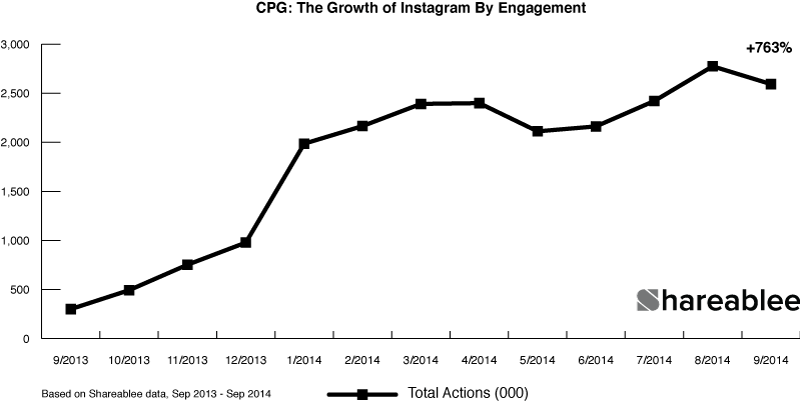 METHODOLOGY: Engagement is measured by the total number of likes and comments garnered by the Instagram accounts of companies within the CPG vertical.
This article originally appeared in the October 13, 2014 issue of PR News. Read more subscriber-only content by becoming a PR News subscriber today.