Philadelphia Mayor Michael Nutter has emerged as a leading voice following Tuesday's tragic Amtrak accident that killed seven people and injured more than 200 a few miles outside the city. While the National Transportation Safety Board and Amtrak investigators continue to look into the specific cause of the crash, Nutter has been out front, connecting with the media and family members of the victims.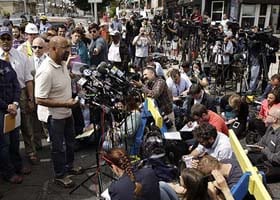 Communicating crucial details with the public is a primary concern when a tragedy like this strikes. It is also an extremely difficult job. Emotions are high, facts are scarce and the story often takes on a life of its own. Tuesday's Amtrak crash along one of the nation's busiest rail corridors is no different.
The primary goal for crisis communicators in situations like this is to provide the facts that are available in a clear and concise way and to communicate sympathy for those most directly impacted by the tragedy. Nutter has certainly done the latter, appearing at the scene to address the media, visiting with injured people and offering comfort to family members of those who died or are still missing.
The only mistake Nutter has made to date is in prematurely placing blame for the derailment on the train's engineer. The train hit a curve at 106 mph, more than twice the speed limit for that section of track, but it is too early to tell if the engineer is solely responsible for what happened. NTSB investigators were quick to point out that they do not know if mechanical failure was also a factor, and they chastised Nutter for making a rush to judgment.
When emotions run high in situations such as this, it's important not to get caught up in the moment, which is what may have happened when Nutter was asked to speculate as to the cause of the crash.
Just the same, Nutter's continued presence at the scene and his ability to communicate and sympathize with victims have proven largely effective in terms of crisis communications. He has become a public face in the early hours of this tragedy while Amtrak and the NTSB seem to remain in the background.
Follow Richard Brownell on Twitter: @RickBrownell