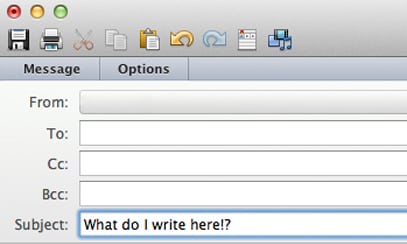 Headlines and subject lines are important. You're most likely reading this article because you found the headline interesting in some way. Likewise, the media's interest (or lack thereof) in your email begins solely with your subject line, so there is a lot riding on those few words.
Erika Kauffman, executive VP and group director at 5W Public Relations, explains in PR News' Writer's Guidebook that you have to assume that when your email is delivered it will be surrounded by hundreds of others. Focus on your subject line and make it something you know your recipient will notice and want to click on. You may find that you end up spending more time on your subject line than the body of your pitch.
To capture attention immediately, Kauffman explains, make your subject line:
Short and sweet, no more than 65 characters
Relevant to the reader
Begin with most important information (keywords or numbers)
A clear indication of what is inside the e-mail
Read like a headline or call to action, not an advertisement
What's the bottom line when it comes to email subject lines? Make every word count. Knowing how to make your subject line both succinct and magnetic will give your pitch an edge right off the bat and help you cross the that first bridge with the media—getting them to open your message.
Follow Brian Greene on Twitter: @bw_greene
Learn the essential skills of PR writing and become a better communicator at PR News' upcoming Writing Boot Camp on November 20 in Chicago.