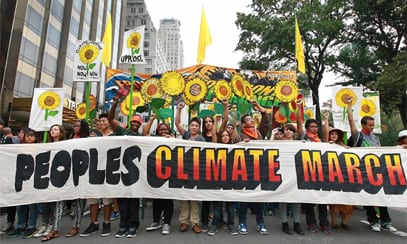 On Sunday, more than 300,000 people descended on midtown Manhattan for "The People's Climate March," the largest climate change demonstration in history. The march was the first of a series of events being held in New York and elsewhere ahead of a U.N. global warming summit Tuesday.
New York put the previous-largest climate change demonstration—Copenhagen's 25,000-person turnout in 2009—to shame, as a swarm of marchers carrying signs, flags, banners and floats zig-zagged their way down a stretch of city that extended from Columbus Circle to 34th street.
Demonstrations in New York City—one of the world's largest metropolitan centers—have a tendency to be gigantic. The city's infrastructure, which moves about 1.6 million people on a typical work day—barely felt Sunday's march. But the size of the march should still give communicators in charge of CSR and sustainability efforts for their brand or organization pause.
The people who took to the streets on Sunday want action on climate change. They see private companies and organizations—not just governments—as both egregious climate offenders and, more important, possible agents of change.
Looking ahead to Tuesday's summit, expect a barrage of promises on pollution reduction, shedding of fossil-fuel investments and expansion of other sustainability efforts from major corporations. How will you respond?
Follow Brian Greene on Twitter: @bw_greene