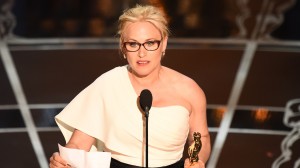 With tens of millions of people tuned in the Oscars can be an effective media vehicle to deliver an important message, and last night's 87th Academy Awards was no exception.
During her acceptance speech for Best Supporting Actress ("Boyhood"), Patricia Arquette made an impassioned plea for women's rights and wage equality.
"To every woman who gave birth, to every taxpayer and citizen of this nation, we have fought for everybody else's equal rights—it's our time to have wage equality once and for all, and equal rights for women in the United States of America," Arquette said.
The speech was well received, but Arquette's comments backstage in the pressroom may have muddied the original message.
Asked during a presser about her comments about wage inequality, Arquette said:
"It's time for all the women in America—and all the men that love women and all the gay people and all the people of color that we've all fought for—to fight for us now."
Those comments sparked a backlash against Arquette, who incurred some withering criticism from both the social sphere and the media.
By seemingly recruiting gay people and people of color to help fight for wage equality, Arquette stepped on her initial message.
Perhaps she should have done a little homework about just who bears the burden of a wage gap in America.
According to the American Association of University Women, in 2012, white, non-Hispanic women made just 78 cents on a white man's dollar, per Fusion Media Network.
Black women earned just 64 cents on a white man's dollar, and Latinas earned 53 cents on the dollar, Fusion said.
The lesson for communicators is if you're going to sign up other groups for your cause, first make sure such groups are on board with the message or have given at least tacit endorsement.
Another takeaway is when you deliver a message it should have a singular quality. Don't get stuck in the weeds regarding who may or may not agree with you; that requires a lot of work, but behind the scenes.
Many groups, such as people working for gay rights, have their own message that they want to convey, and they probably don't want to be lumped together with other campaigns in which they have little or no control.
Follow Matthew Schwartz on Twitter: @mpsjourno