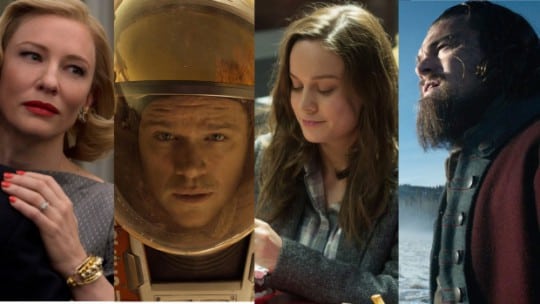 Diversity has never been one of Hollywood's strong suits. Although the movie business is just one sliver of one industry, its high profile makes it a kind of stand-in for the rest of the business world in the U.S. The lack of diversity in front of and behind the camera—as well as in studio executive suites—made rare headlines in mainstream media last fall when HBO's "Project Greenlight" exposed rifts in perceptions of industry racism between series co-producer Matt Damon and one of the show's on-camera personalities, producer Effie Brown.
Expect another spate of similar media stories: All the actors nominated for 2015 Academy Awards are white. That's 20 actors across four categories: Actress in a Leading Role, Actor in a Leading Role, Actress in a Supporting Role and Actor in a Supporting Role. As the New York Times reported after the Academy of Motion Picture Arts and Sciences announced the 2015 Academy Award nominees this morning, this is the second year in a row that all the acting nominees are white.
Here are the nominees in the acting categories:
ACTRESS IN A LEADING ROLE

Cate Blanchett, Carol
Brie Larson, Room
Jennifer Lawrence, Joy
Charlotte Rampling, 45 Years
Saoirse Ronan, Brooklyn
ACTOR IN A LEADING ROLE

Bryan Cranston, Trumbo
Matt Damon, The Martian
Leonardo DiCaprio, The Revenant
Michael Fassbender, Steve Jobs
Eddie Redmayne, The Danish Girl
ACTRESS IN A SUPPORTING ROLE

Jennifer Jason Leigh, The Hateful Eight
Rooney Mara, Carol
Rachel McAdams, Spotlight
Alicia Vikander, The Danish Girl
Kate Winslet, Steve Jobs
ACTOR IN A SUPPORTING ROLE

Christian Bale, The Big Short
Tom Hardy, The Revenant
Mark Ruffalo, Spotlight
Mark Rylance, Bridge of Spies
Sylvester Stallone, Creed
Intentionally or not, with its list of nominees the motion picture industry is sending a message about its own sense and awareness of the value of diversity—a message and perhaps a wake-up call that could prove useful to other industries and professional disciplines that have similar blind spots.
The 88th Annual Academy Awards presentation will be telecast on ABC on Feb. 28.
Follow Steve Goldstein: @SGoldsteinAI