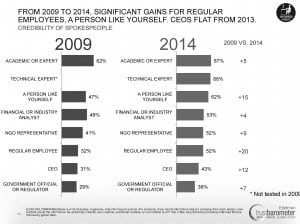 ▶ Closing the Gap on the Leadership Deficit: PR pros might want to toss out that leadership playbook from the early 2000s. Better yet, burn it so you can't access it altogether. Nearly 80% of business professionals indicate that current business challenges require a different type of leadership, but only 21% of them said that their organization's leadership practices are very effective, indicating an inability to build new leadership skills. That's according to a recent study from management research company APQC.
The study, which took the pulse of 547 professionals, also found that 46% of the respondents report that their organization places little or no priority on leadership development. It's a void that PR pros can help fill and attain a seat at the table in the process.
APQC identified the following as the top five leadership skill deficiencies; the last two play right into communicators' skillsets.
• Strategic planning
• Change management
• Knowledge sharing
• Listening
• Emotional intelligence
Source: APQC
▶ Companies Dazed and Confused by 'Big Data': There's a major disconnect between C-suite executives who realize the value of big data but don't know how to execute on it, a new study revealed. Indeed, while the vast majority (85%) of C-level professionals see the value of data and analytics, they still face challenges in analyzing their existing data, according to KPMG Capital.
The study is based on interviews with 144 CFOs and CIOs from multinational companies with annual revenues of $1 billion or more (U.S.) The message for PR pros: Getting a better grip on big data and being able to clearly communicate its benefits should increase their visibility with C-level executives.
The report "demonstrates not only the hunger to harness new D&A (data and analytics) capabilities, but also the greater level of support that's needed to operationalize these insights," said Mark Toon, CEO of KPMG Capital, in a statement.
Here are some other nuggets from the study:
• A majority of the respondents (69%) consider D&A to be crucially or very important to their current growth plans.
• More than half of all respondents (54%) identified their greatest barrier to implementing a successful D&A strategy was an inability to identify what data to collect.
• Most executives (80%) agree that speed is a key benefit of using D&A.
• A little less than half of the respondents said integrating data into existing systems and/or business models is the greatest challenge.
Source: KPMG Capital
The story originally ran in the Feb. 10, 2014 issue of PR News.
Read more subscriber-only content by becoming a PR News subscriber today.