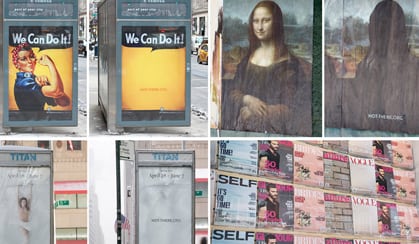 If you were walking the streets of New York City Sunday, you may have noticed a number of altered billboards and outdoor advertising spaces in which women were removed, leaving only disturbingly blank silhouettes. This was not some widespread advertising screwup, but a coordinated messaging campaign called Not There, and its goal is to bring attention to gender inequality.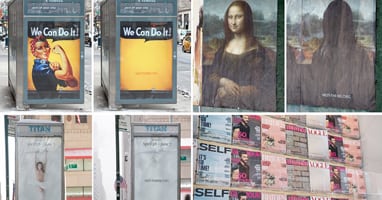 Launched in conjunction with International Women's Day by the Clinton Foundation, and developed by ad agency Droga5, the Not There campaign highlights the No Ceilings initiative, which the Clinton Foundation started together with the Bill and Melinda Gates Foundation.
The campaign brings up a number of factors that have kept women from achieving true equality with men, particularly in the economic arena. Women in many professions have still not reached pay parity with men, and they still hold only a small fraction of management positions despite earning more college degrees.
A number of major brands took part in the Not There campaign, including Unilever and Under Armour. Condé Nast altered magazine covers, iHeartMedia removed women's voices from songs on 186 stations and women were encouraged to change their Twitter profile pictures to blank silhouettes.
The Not There campaign is a clever demonstration of taking an important social issue and bringing into the public conversation in a fresh way to spark a dialogue and hopefully draw support for the cause.