Despite publishers' and journalists' affinity for Twitter, it turns out that Pinterest is driving more traffic to their homepages. According to a recent Shareaholic study, when it comes to traffic from social, Facebook and Pinterest are leading the way.
In September, Pinterest drove 3.68% of traffic to publishers' sites. That is still a far cry from the 10+% that Facebook generated, but is more than twice what Twitter and LinkedIn did combined. Not to mention both Facebook and Pinterest have been on the rise when comparing September 2012 versus 2013, whereas both Twitter and LinkedIn have remained relatively flat.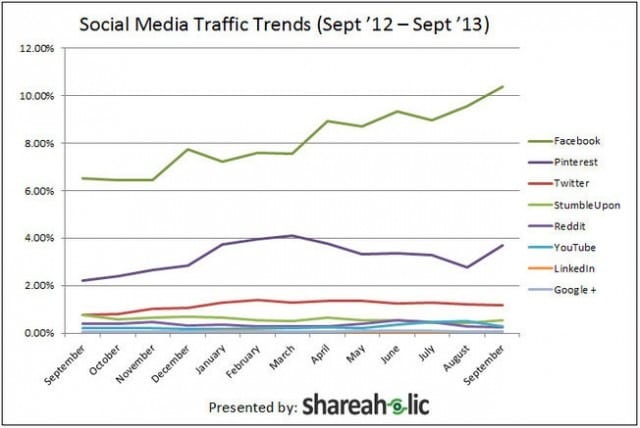 So what are the takeaways for communicators?
To start with, this explicitly indicates that Pinterest is a good platform to drive traffic, regardless of whether or not you're a publisher. And when you think about it, it's logical because rich media has become explosively popular within social.
What's more, communicators rely on publishers to spread their message through both paid and earned media coverage, thus Pinterest is an important channel to boost impressions, engagement, and brand lift.
With that in mind, here are four other things to keep in mind when it comes to Pinterest.
Pinterest is an excellent platform for commerce as it visually showcases products that can then be shared by users rather than by marketers.
Pinterest allows you to repackage existing content in new ways.
Pinterest can be optimized for search and is a great back door for using long-tail keywords.
Pinterest has its own unique culture that can expose your brand to a new audience, or engage and reinforce relationships with existing stakeholders.
Follow Caysey Welton: @CayseyW