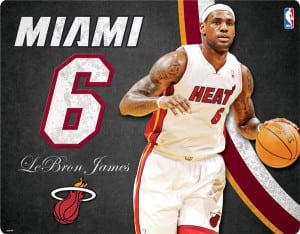 Everyone loves a winner—unless you're from San Antonio. The Miami Heat beat the San Antonio Spurs last night in dramatic fashion to claim its second consecutive NBA championship, and increased global awareness of the towering image of star LeBron James first, and its own team brand second. That's a lot of No. 6 jerseys and, ultimately, boosts in CPMs for Heat games on TV.
As a gauge of brand awareness, the Heat have 1.5 million followers on Twitter; the Spurs have 396,000. Expect that gap to widen in the next 48 hours.
Resting on laurels is an easy mistake for championship teams–and championship brands of all stripes–to make. The Heat came dangerously close to being upset by San Antonio's team of veterans, and had they lost, last year's championship season would have been tainted by charges of ensuing cockiness. The close call will likely make them savor this year's success even more and perhaps find new ways to thank and engage their fans. There's no telling when the next championship will come.
Here are five ways the Heat can thank and expand its fan base while the iron is still (ahem) hot. Non-sports brands that are on a roll can adapt these as they see fit:
Ramp up community engagement in South Florida. Professionial athletes are often perceived as overgrown, entitled children. The Heat have proven that they have the hearts of champions—now is the time to use their power and influence as a force of good.
Drastically lower the price of some seats for every game at AmericanAirlines Arena to make the brand more family friendly.
On the Heat's official Twitter feed, schedule live tweeting with players so they can connect with fans worldwide. The goal should be to make the Heat the New York Yankees of the NBA.
Ask fans to share Vine or Instagram videos of their attempts at reproducing the LeBron James jump shot that sealed Game 7 of the finals.
Schedule a Miami Heat exhibition game in North Korea and invite leader Kim Jong Un.
Follow Steve Goldstein: @SGoldsteinAI