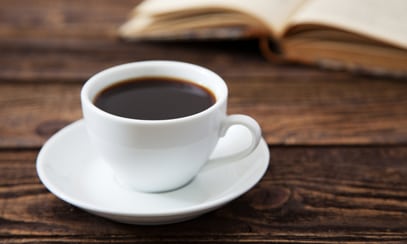 If you encountered a longer-than-usual line at your local Starbucks, Dunkin' Donuts or McDonalds today, you should at least have a free cup of coffee to show for it.
Today is National Coffee Day, an unofficial holiday that many coffee chains are celebrating by giving away free cups of joe. The holiday been observed in the United States since at least 2005, although many credit the actual origin of the holiday to a celebration in Japan in 1983. Lamentations about yet another made up holiday aside, the celebration is a boost to both coffee producers, who get a creative marketing opportunity, and drinkers, who get free coffee.
Examples of some of the deals include:
Tomorrow is #NationalCoffeeDay! Are you ready to celebrate with a FREE medium cup of our New Hot Dark Roast? pic.twitter.com/YTOehVWfA1

— Dunkin' Donuts (@DunkinDonuts) September 28, 2014
My coffee is your coffee. Visit us 'til 9/29 for a free small @McCafe coffee during breakfast. https://t.co/3xklAkjx11 — McDonald's (@McDonalds) September 27, 2014
Krispy Kreme also got creative this year, encouraging people to set-out-of office messages explaining that they are at Krispy Kreme enjoying a well-deserved break. Both Starbucks and Dunkin' Donuts are offering free tastes of new blends for this year's celebration, and McDonald's has actually been giving away free cups of small coffee during breakfast time for 2 weeks now, a deal that ends today.
While new research from Dr. Travis Bradberry suggests that coffee may not be the magic productivity elixir that many make it out to be, that doesn't seem to be slowing anyone working in PR and media down from drinking a daily cup, or four—especially if it's free.
Follow Brian Greene on Twitter: @bw_greene