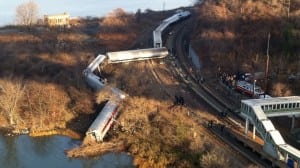 "Tell it first and tell it fast." That's the absolute journalistic rule for those reporting on a headline-grabbing event like this week's fatal Metro-North train derailment in Spuyten Duyvil, N.Y. For PR professionals, specifically crisis managers, getting swiftly ahead of such a story while controlling potentially damaging details is of paramount importance.
That was the challenge for Metro-North Railroad, a service run by the Metropolitan Transit Authority (MTA), on Sunday as news came that a passenger train had derailed around 7:20 a.m. as it moved through a precarious bend in the Bronx.
For the railroad authorities, it's a major crisis. For communications professionals, it's a window on a real-time crisis-management response.
With speculation swirling about what could have caused the train to run off of the rails, MTA crisis management teams mobilized, distributing news detailing the location of the incident and the type of locomotive involved, as well as assuring the public of updates to come within an hour of the derailment. Within four hours of the accident, New York Governor Andrew Cuomo gave a press conference near the site of the incident, confirming that four people were dead and 63 injured as a result of the derailment.
And by Monday night the National Transportation Safety Board (NTSB) held a press conference confirming another fact—that the passenger train was traveling at 82 mph as it entered a curve normally meant to be taken at 30 mph. The investigation into why the train was travelling at such speeds is ongoing, but the news keeps on coming. As of midday Tuesday, word was that the engineer might have been asleep.
The MTA and NTSB tried to control the details of this story from the beginning. Still, they reported what they knew when they had the information, providing sensitive details in a timely manner.
When managing a PR nightmare like the one the MTA is currently handling, working expeditiously is crucial. Here are some tips to use when facing a fast-moving crisis, courtesy of Monica Gabrielle Wood, owner and lead strategist of MWPR Inc.:
Stop what you are doing, and give your full attention to the matter at hand. Taking too long to respond to a crisis can create an entirely new one. Pull in all necessary and appropriate resources and get to work.
Drop the urge to be defensive. A crisis automatically places you in a defensive mode. However, this is the time to show what you are truly made of as a PR professional. Turn the negative into a positive.
Roll out the facts in a strategic way. This includes determining what method should be used and who the messenger should be. Sometimes what is a solid message fails to connect because the messenger or method used distracts rather than attracts, and confuses rather than clarifies. Speak about facts, not about feelings or from fear. Keep your message clean and clutter-free.
For more tips on crisis management, order a copy of PR News' Crisis Management Guidebook.
Follow Brian Greene: @bwilliamgreene