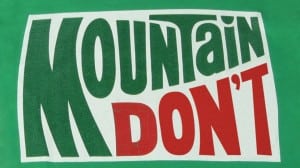 When it comes to celebrity endorsements, be careful what you wish for.
Mountain Dew probably thought it was lending its brand some street cred when it recruited rapper Tyler, the Creator, to create a commercial. But the plan backfired and now Mountain Dew is scrambling to contain the PR damage.
In the 60-second spot, a battered woman is asked to eye a police lineup. Each suspect is a black male except for a goat, who snarls, "You better not snitch on a player," and "Keep your mouth shut." The woman, gripped by fear, runs away and yells, "I can't do this!" an apparent reference to Mountain Dew's "Dew It Slogan."
Mountain Dew has pulled the ad, saying "it understood how the ad could be offensive," according to the Associated Press. Mountain Dew has also apologized for the ad.
But this may feel like déjà vu all over again for the soda brand, which is owned by PepsiCo. Mountain Dew is also dealing with calls demanding that Lil Wayne be dropped from his sponsorship deal with the company, according to rollingstone.com.
Lil Wayne has sparked outrage over his crass lyrical reference to Emmett Till, the 14-year-old boy who was tortured and lynched in 1955 for allegedly whistling at a white woman, rollingstone.com said. (Lil Wayne has apologized for the lyrics.)
The Mountain-Dew controversy is another reminder for PR execs to be a bit more selective in choosing celebrity spokespeople. And at the very least, professional communicators need to have a seat at the table when brand advertising decisions are being discussed. Otherwise, as the Mountain Dew spot illustrates, there could be some erosion to the brand.
With that in mind, we offer a few tips for PR pros when considering a celebrity as part of a communications initiative, per Deborah Sierchio, VP at Coyne PR, who oversees the agency's beauty, fashion, entertainment and retail divisions.
· Conduct a Thorough Background Check: Review their history, past affiliations and fan club chatter. Some brands don't want to be associated with a celeb who smokes, lives with her boyfriend out of wedlock or throws phones at assistants. For starters.
· Check For Relevancy: Do the celebrity endorsers mean something to your brand or product? If representing a health issue, have they been affected by this issue personally? Do they also have a downside?
· Ensure there are no conflicts: Are they already working with a competing or likeminded brand?
· Media Appeal/Newsworthiness: Do they have any upcoming projects (book, movie or TV series) that would increase their interest with the media? Are they a tabloid favorite or a regular in women's magazines? Does the public "like" them or "love to hate" them?
· What's the Worth? How will hiring this celebrity help you achieve your goals? Is it strategic to hire one movie star, or is it smarter to spread the budget amongst a handful of reality stars that will help tell your story in a favorable light?
· Willingness to Do Media: Will this celebrity work with you to achieve your goals and deliver your message? Are they "on board" with your communication platform and willing to talk to the media or just participate in photo opportunities?
What do you think about riding the celebrity train to get the message out? Are we missing anything?
Matthew Schwartz: @mpsjourno1