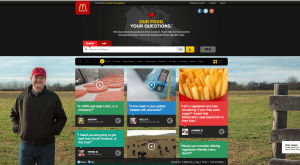 It seems every company is a media company. In the digital age, more and more brands and organizations are taking on the characteristics of traditional media outlets and building online newsrooms—and communicators are at the center of the action.
The latest to jump into the fray: Waste Management. It soon will roll out the Waste Management Newsroom website, which will feature company and industry news, original content, social media conversations and a "green" blog.
Robert Kidwell, WM's director, internal communications and social media, said: "We no longer want to tell our story in bits and pieces—a press release here, a Facebook post there. We want a place where everything we market and promote comes together and is one click away."
"It's not a milestone or a moment, but a normal course of business," added Mitzi Emrich, chief social strategist at MWW, which helped build the website. "It gives the company a new arena to bring information together...in an innovative way."
The trend of brands developing online newsrooms underscores how the fundamental role of PR pros is changing. Rather than periodically distributing a news release, a video or posting a tweet, newsrooms require communicators to analyze data to find interesting trends, supply video and photos and create story leads while managing a steady stream of information.
DEDICATED STAFF
For Jeff Beringer, global practice leader, digital, at Golin, the most effective brand-publishing models aim to be hybrids that target media as well as consumers and influencers.
Golin heavily supports content marketing for major brands, including Cisco Systems and McDonald's, via The Bridge, a network of real-time storytelling centers staffed in the Americas, Europe and Asia Pacific.
While most brand newsrooms are manned by existing PR staff, supplemented by agency reps, Golin's Chicago-based Bridge supports McDonald's Brand Newsroom, promoting campaigns like "Our Food, Your Questions," designed to answer questions from consumers, journalists and influencers about McDonald's' food. Roughly 20 Golin staffers work on McDonald's Brand Newsroom full-time.
The site is "designed to amplify our media relations effort by connecting the dots between social and traditional media to get maximum exposure for McDonald's," said Molly Starmann, senior director, PR and Brand Reputation, U.S. Communications, McDonald's USA.
Several developments have led to the rise of brand-built newsrooms. As the number of traditional media jobs has shrunk, reporters need the assistance brand newsrooms offer. Sources are quick to say, however, that branded newsrooms are not designed mainly to bypass media or curtail media pitching by PR pros. Steve Curtis, VP of communications of Toyota, said: "We want to make it easier for journalists to do their jobs and give them the tools to help tell a story in an ever-changing environment."
Curtis points to the Tekgroup 2015 Online Newsroom Survey Report showing that 97 percent of journalists think it is important or very important for companies to have an online newsroom.
The study asked 685 journalists how they are using digital media, online newsrooms and social media to write, research and report on news stories.
Toyota USA Newsroom, which launched in 2000 and got a major upgrade in 2014, features press releases, photos, videos, audio, social media streams, as well as content focused on the company's R&D projects. "We consider journalists our customers, too," he said.
Jonathan Carpenter, a partner in Finn Partners' digital unit, who helps manage a Jack Daniel's website [see below], recommended the following tips for PR managers looking to use their online newsrooms to strengthen relationships with the media rather than as a lead-gen tool:
Provide journalists with information in formats that make it easier for them to tell your story.
For consistency, the same people who produce the site's content should pitch the media.
Track the journalists covering the site to gauge how useful the site's been for them and how it can be improved for the long-term.
PERPETUAL MESSAGING
Online newsrooms are also being designed to help extend brands' special events.
Finn, for example, manages a website pegged to Jack Daniel's World Championship Invitational Barbecue, an annual cook-off that draws 25,000 fans from throughout the world.
The website features downloadable profiles, videos and images of the 90 teams competing for the Grand Champion, recipes and archived posters from previous competitions.
"Having up-to-date content and media assets, from B-roll to press releases to fact sheets on the site, allows for a 24/7, one-stop shop for both national and international media," said Svend Jansen, Jack Daniel's Global PR Manager. "In addition, having these assets allows us to tell the larger story of Jack Daniel's outside of just the BBQ event, which oftentimes results in additional brand coverage."
Finn Partners' Carpenter added that one of the major ingredients for the site is pitching local media outlets about the various teams that are in the competition.
"There may be interest from international media who are not necessarily familiar with the Jack Daniel's brand and we've able to garner a lot of relationships through the site," he said. "Media [reps] don't have to go very far to get everything they need from the site."
CONTACT: Jeff Beringer, jberinger@golin.com; Jonathan Carpenter, jonathan.carpenter@dvlseigenthaler.com; Steve Curtis, steven_curtis@toyota.com; Mitzi Emrich, memrich@mww.com
This article originally appeared in the July 27, 2015 issue of PR News. Read more subscriber-only content by becoming a PR News subscriber today.