C-suite managers who go it alone are probably going against the tide—at least when it comes to appealing to millennials, who think an inability to take advice from others shows weak leadership.
▶ Strength in Numbers: Millennials are starting to enter upper management in droves, and they may be looking for their Kumbaya moment. Executives who can't take advice (47%) and are resistant to change (45%) don't make good leaders among millennials, according to yconic, a digital media and research company focusing on younger consumers. "PR managers must recognize that the millennials (born between the early 1980s and the early 2000s) are asking more of their leaders," said Rob Henderson, president-CEO of yconic. "Ask yourself: How are you at taking advice? Are you open to change? Do you trust your staff, or do you micromanage? If you're a weak leader, talented millennials will leave and seek environments that allow them to grow and contribute in a meaningful way." Over-confidence (22%) does not seem to bother millennials much, and may feed on itself. "Millennials see the leaders in their organization as an asset to their professional growth," Henderson said. "They're looking for people by which to model their own behavior for future endeavors." PRN
Source: yconic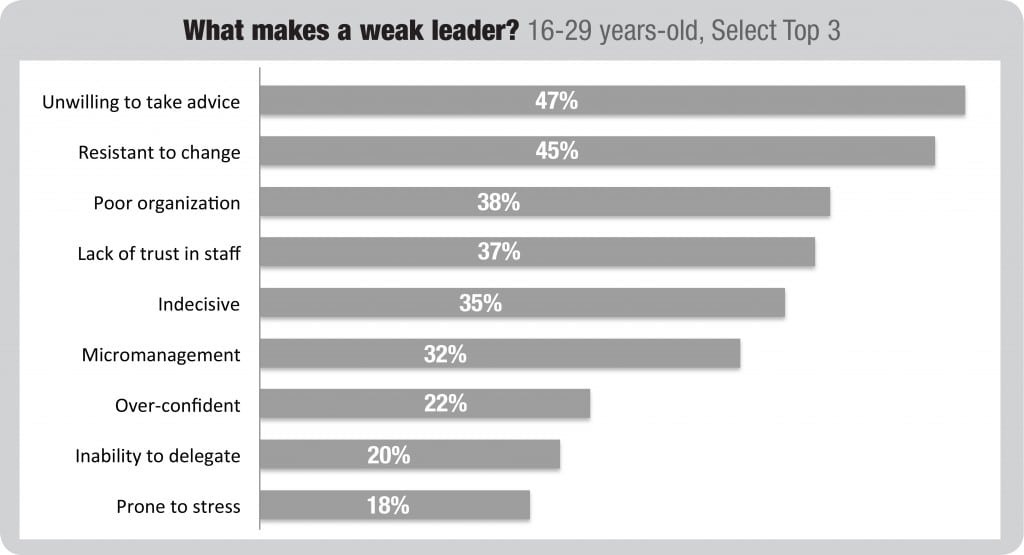 METHODOLOGY: The survey was conducted online with 2,000 English-speaking Canadians aged 16 to 29, sampled from a representative panel of more than 549,000 Canadian residents. The survey was completed from January 17 to Feb. 4, 2014. Since the online survey was not a random, probability based sample, a margin of error could not be calculated. The margin of error for a survey of 2,000 respondents using a probability sample is +/-2.19%, 19 times out of 20. Online surveys cannot be assigned a margin of error because they do not randomly sample the population, as outlined by the industry body, MRIA.