For PR managers and directors who want to appeal to millennials, organization and stress management take a backseat to showing that your company takes initiative and motivates teams.
▶ What Millennials Look Up To: The "ability to negotiate," or, in PR terms, the delicate art of persuasion, has been a hallmark of the business world since time immemorial. But millennials, or people born between the early 1980s and early 2000s, have a decidedly different take when it comes to the most important leadership qualities. Taking initiative (89%) is the top leadership quality appealing to millennials, closely followed by motivating teams and awareness of others (88%), according to a survey conducted by yconic, a digital media and research company focusing on younger consumers. "I think this is an opportunity for PR leaders to understand a key skills gap for millennials," said Rob Henderson, president-CEO of yconic. "The fact they are downplaying (the ability to negotiate, for example) probably has more to do with their experiences or the fact they have not been taught about its importance to the industry." PR managers who demonstrate the importance of these qualities to their millennial colleagues, he added, will be the managers who generate better outcomes, "as long as they feel motivated and understand that empathy is driving their career forward."
Source: yconic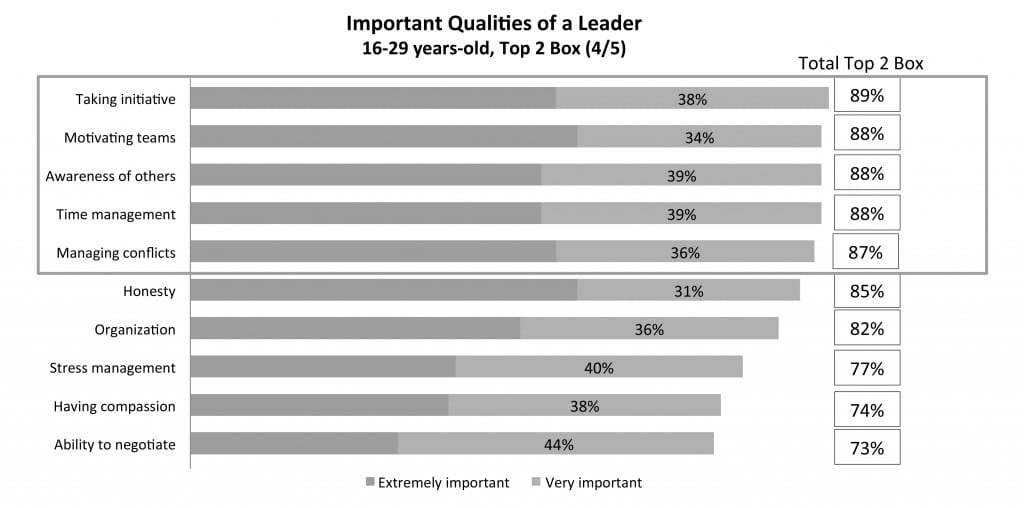 METHODOLOGY: The survey was conducted online with 2,000 English-speaking Canadians aged 16 to 29 sampled from a representative panel of over 549,000 Canadian residents. The survey was completed from January 17 to February 4, 2014. Since the online survey was not a random, probability based sample, a margin of error could not be calculated. The margin of error for a survey of 2,000 respondents using a probability sample is +/-2.19%, 19 times out of 20. Online surveys cannot be assigned a margin of error because they do not randomly sample the population, as outlined by the industry body, MRIA.
This article originally appeared in the July 28, 2014 issue of PR News. Read more subscriber-only content by becoming a PR News subscriber today.