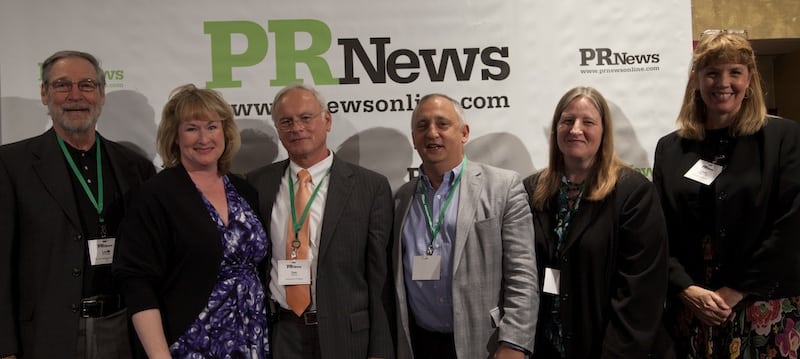 The 2012 Measurement Hall of Fame inductees (left to right): Louis C. Williams Jr., Linda Rutherford, Don W. Stacks, David Rockland, Jackie Matthews, Linda Childers Hon.
Social media ROI and measuring PR's value during a crisis were among the hot topics of discussion at PR News' April 18 PR Measurement Conference. In a packed ballroom at the JW Marriott in Washington, D.C., nearly 300 communications professionals listened to—and participated in—a full day of sessions about measurement, which is often referred to as the Achilles' heel of PR.
According to presenter Mark Weiner, CEO Americas, PRIME Research, the best approach to proving public relations' value is setting the right kind of objectives. "Your objective should never be 'to generate significant buzz.' It's too vague," said Weiner. "People are deliberately vague because they haven't set a good objective in the first place. The objective has to measurable, meaningful and reasonable."
When asked what are some of the top metrics that will help prove PR's value, Johna Burke, senior VP, BurrellesLuce, said it's important to first understand the objectives of your business. "Once you understand how your business makes money, you can then come up with good objectives. Think in bullet points and in Excel, because that's the language of business and senior management," said Burke.
In his morning keynote, Rohit Bhargava, senior VP of global strategy & planning at Ogilvy and author of the forthcoming book Likeonomics, said one common measurement mistake communicators make is to look at the statistic that people are most excited about and focus on that, rather than asking if it's impacting business. "Have a strategy, not a bubble. A lot of times our strategies look nice in the short term but don't last," said Bhargava.
Several of the day's sessions focused on strategic PR measurement during a crisis. Priya Ramesh, director of social media for CRT/tanaka, said journalists thrive on crises. "In PR, when crisis hits you it's like being in an emergency room setting. In most cases PR pros are just reacting to a crisis—but you also need an offensive strategy that helps you neutralize a crisis," said Ramesh.
Katie Paine, CEO and founder of KDPaine & Partners, said the bottom-line measurement for success in a crisis is to get the volume of noise to go down. Paine's rules for crisis management and measurement in the new media age is much more dependent on the speed of response. "If you can't respond to a crisis in under three hours, it's going to get worse. Chances are a crisis is going to start on Facebook, Twitter or YouTube, not the New York Times; respond in the media in which the crisis started," said Paine. "Benchmark against prior industry crises and benchmark over time against whatever business-related PR metrics keep your C-suite up at night."
A highlight of the day was the induction of six PR measurement leading lights into the PR News Measurement Hall of Fame. Linda Childers Hon of the University of Florida; Jackie Matthews of General Motors; David Rockland of Ketchum; Linda Rutherford of Southwest Airlines; Don W. Stacks of the University of Miami; and Louis C. Williams, Jr. of the Lou Williams Companies, Inc. were honored for their contributions to advancing the science of PR measurement.
Williams said PR measurement strategies have actually benefited—not suffered—from a down economy. "The best thing to happen to measurement in the last five years has been the economy. In a bad economy people start asking hard questions, and we have to come up with very good answers. We had a traumatic blow, which forced a new, harder look at research," said Williams.
Clearly, in good times and bad, proving the worth of PR through strategic measurement will always be an important skill for a PR practitioner.
Follow Bill Miltenberg: @bmiltenberg