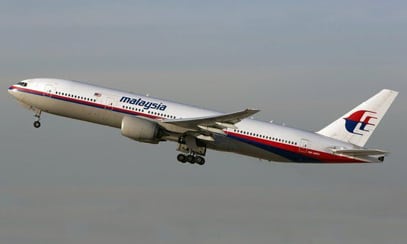 Malaysia Airlines has been at the center of two of the most disastrous high profile stories of 2014. First, in March, Malaysia Flight 370 mysteriously disappeared, presumably somewhere over the Indian Ocean. The plane has still not been found. Then, in July, Malaysia Flight 17 crashed in eastern Ukraine, the apparent victim of a surface-to-air missile fired by militants in that war-torn region.
Two lost flights resulting in the deaths of over 500 people in the span of just 131 days should have been more than Malaysia's fair share of bad press this year.
But this week the airline brought on one of the most baffling bad PR stories in recent memory when it launched the "My Ultimate Bucket List Campaign." According to Travel Monitor, the campaign asked customers to tell Malaysia Airlines which destinations they'd most like to visit, with the best answers going into a draw to win one of 12 return economy class airfares from Australia and New Zealand to Malaysia or one of four iPads.
Of course, a "bucket list" is a list of things one wants to do before dying, and seeing as how the airline has a less-than-stellar track record in passenger safety this year, the new campaign was quickly and thoroughly lambasted. By Thursday, the airliner announced a name change for the campaign and issued an apology.
The struggling airline has been all but abandoned by customers following this year's two deadly disasters, and last week it announced that it would cut flights and personnel to the tune of more than $1 billion in savings. The ill-advised campaign title, part of the its desperate search for ways to boost business, shows that the airliner has more to work on than just making sure their flights go smoothly.
Follow Brian Greene on Twitter: @bw_greene