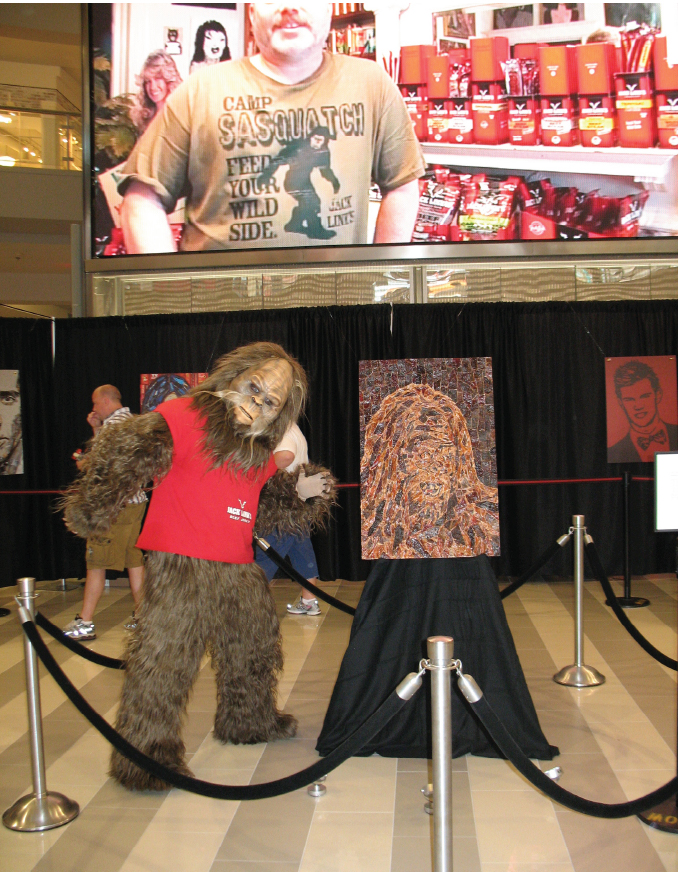 Don't call him Bigfoot: On National Jerky Day,
the Jack Link's Sasquatch admires his portrait,
created by renowned mosaic artist Jason Mecier.
Photo courtesy Carmichael Lynch Spong
When looking to secure media coverage for your client or your organization, developing a campaign around special "day" to get the word out can be fruitful. And while there are already hundreds of observances throughout the year that you can latch on to, if one doesn't exist, you can create your own.
That's exactly what Jack Link's Beef Jerky did when it created National Jerky Day on June 12, 2012. Here, Martine Larson, senior counselor at Carmichael Lynch Spong, provides four tips for creating your brand's own special day.
Research the calendar. "Make sure the special event or day you want to initiate does not already exist," says Larson. Determine when your special day should be celebrated and remember to keep it timely.

Give people a reason to celebrate. Figure out what makes your special day compelling and different from other existing events.

Register. Submit your special day, for free, to Chase's Calendar of Events, the most comprehensive and authoritative resource on special events, holidays and historic anniversaries.

Partner and celebrate. In the states in which Jack Link's has factories and offices and therefore contributes to the economy, the company worked with local governments to proclaim Jack Link's National Jerky Day.

PR News subscribers can read more about milestone media relations tactics in the case study: Jack Link's Beef Jerky Launches a Meaty Campaign Mosaic
Around an Annual Day of Celebration.

Follow Bill Miltenberg: @bmiltenberg