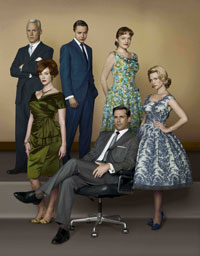 Mad Men is back, just in time for the Pinterest explosion.
It was a tough weekend for HBO. The premium cable network was already smarting from the abrupt cancellation of Luck, after a third injured horse was euthanized. Then it had to suffer through the #Draping trend.
HBO famously passed on Matthew Weiner's idea for a series set in the 1960s about the advertising business. Now, after a 17-month gap since the last episode was telecast on basic cabler AMC, Mad Men returned on Sunday, March 25, with the premiere of its fifth season, and the associated hype has been seemingly effortless and organic. Facebook and Twitter have continued to grow since season four ended, and the recent, sudden explosion in the popularity of Pinterest couldn't be more well-timed. Mad Men is about more than just fashion, but that element has always been immensely important in the marketing of the show. Fashion, along with food (and beverages), are top categories on Pinterest, and style magazines and designers have been dipping into mid-century ideas heavily to cash in on the popularity of the show.
The most interesting Mad Men trend on Pinterest and Twitter is #Draping, in which people (and pets and inanimate objects) replicate the series' main graphic in which a silhouetted character (assumed to be Don Draper) is seated on a sofa, with an arm draped along its back. The #Draping Twitter hashtag is overflowing with homemade "draping" images, and #Draping pins on Pinterest are helping many of us forget the scourge of Tebowing.
AMC is helping to promote this trend, not that it needs to. On the AMC Mad Men Web page, there's a feature called "Ten Ways to Get Ready for the Season Premiere," and you have to click through to a second page to get to a link that says "Take a photo of yourself 'Draping.'"
Meanwhile, the executives at HBO were sitting on their own sofas at home on Sunday night, most likely crying into their Old-Fashioned's.
Follow Steve Goldstein: @SGoldsteinAI