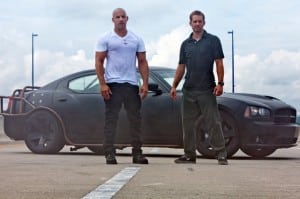 We've all the seen the dead artist effect. Paul Walker may be the latest Hollywood example: Brandon Lee's death during filming of "The Crow" propelled a cult movie into a box office smash, and Heath Ledger's overdose helped "The Dark Knight" become one of the highest-grossing movies of all time.
Cynical? Harsh? True? Yes, yes, and yes. But, there's a lot at stake here. According to the New York Times, "The blockbuster franchise has taken in about $3 billion at the box office over the last 12 years, adjusting for inflation. 'Fast & Furious 7' is by far Universal's biggest movie for 2014."
Paul Walker's death in a fiery high-speed car crash raises some tough PR questions for Universal. The studio already had a "do as I say, not as I do" PSA starring Walker in the can. At press-time, the PSA had less than 17,000 views on YouTube.
They also released a very tasteful tribute video for Walker,  featuring scenes from the franchise. That video went viral, with more than 9 million views at press-time.
Should Universal promote the PSA more widely? Or should they stand pat with the tribute?

Univeral's first move was perfect, releasing a statement saying they grieved deeply and would donate a portion of "Fast & Furious 6" DVD sales to Walker's charity. But what should Universal do next? Leave a comment—we'd like to hear your thoughts.
Follow Brian Kelly: @bwpkelly